For enthusiasts games who wanted a laptop strong, to be at the same time compact enough to be transported easily, the list of options is not too wide. One of the most interesting offers Razer Blade was updated with a larger memory, video card and processor new more resistant.
The updated version Razer laptop uses the same screen model with a diagonal of 14 ″, a resolution of 3200 × 1800 pixels and IGZO panel the company has implemented and the previous model, but those who are not convinced of the usefulness of a screen so picky when a laptop now have the opportunity to choose a version with Full HD si IPS panel. Regarding the last option, users can enjoy the filter mat, but note that they have to give the surface capacitive touch.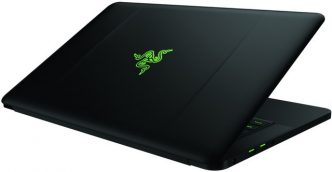 A strong point is the fact that the hardware configuration has been updated a video card NVIDIA GTX970M with dedicated memory 3GBUsers who want version QHD display + will benefit such a performance. Of course, the processor has been upgraded, Intel Core i7-4720HQ being a family member Haswell, which provides a standard working frequency 2,6 3,6 GHz and a maximum GHz. Current configuration provides 16 GB of RAM if QHD screen version + and 8GB RAM if the model Full HD. Besides these technical specifications improved significantly, the changes are not too high. Razer Blade offers a solid state drive with M.2 connection with capacities of 128, 256 or 512 GB (only 256 GB in the case of the version with Full HD display), 802.11 a / b / g / n / ac network interface with 2 × 2 architecture, Bluetooth 4.0A webcam 2 MP sensor, USB 3 3.0, output HDMI 1.4 and a battery with a capacity of 70 Wh. The housing is made of aluminum and has a monoblock design. Keyboard play a lighting system that uses traditional green and has anti-ghosting system.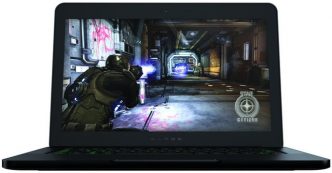 The new Razer Blade with 14 ″ screen has dimensions of 345 x 235 x 17,8 mm and a weight of 2,03 kg, in the case of the QHD + version with touch control, or 1,9 kg, in the case of the Full HD version without touch surface. Prices for the new product start at $ 2200 in terms of configurations with QHD screen +And is 1999 dollars, if the sole configuration screen Full HD. A disadvantage is that the availability of this product still remains problematic because Razer offers this product only in the United States and Canada. The company promised two years ago as its laptops will arrive in Europe by the end of 2013 somewhere, but I got in 2015 and this promise has not yet materialized. Precisely for this reason, local availability is unknown, and those interested will be forced to address the arduous way out of the laptop just overseas acquisition.
Razer Blade laptop with significant improvements for gamers