ModSecurity is a application firewallOpen source that provides protection web pages hosted on the server. Basically, ModSecurity (mod_security) Monitoring si analyzes Real-time traffic HTTP and provides protection for a series of attacks that could occur on web pages.
ModSecurity can be installed and can be found on web server either as module Apache Web Server (Mod_security) or as a standalone application.
Even if it is provided to protect web applications, ModSecurity can also create some problems. The frecvemta mod_security problem is to ban access to certain web pages to users or robots indexing (gender Googlebot). can generate errors false-positive gender: 403 HTTP (Forbidden or Access Denied), 412 HTTP (preconditioned Failed), 406 HTTP (Not Acceptable) or errors sessions login / authentication web site.
ModSecurity is a good Web application firewallBut it must be configured manually according to the needs and specific website or blog that protects you. If you use a server with Apache mod_security and do not want to complicate the config, then you disable ModSecurity to a site by using File .htaccess placed in the root (the root) website. You need to add the. Htaccess following lines:
Off SecFilterEngine
Off SecFilterScanPOST
These lines placed in the root of a Web site will disable the ModSecurity (mod_security) for the whole field.
Uninstall or Remove module ModSecurity (mod_security) in Apache.
Mod_security usually found in folder config Apache. On most web server it is located in / Usr / local / apache / config.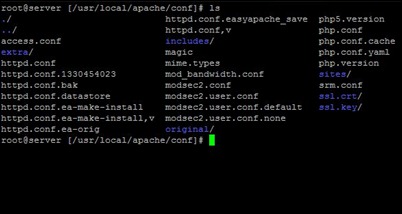 Before moving to manually delete application files (in our case the files that begin with "modsec2. "), You have to eliminate the lines below httpd.conf.
Security_module LoadModule modules / mod_security.so
Include "/usr/local/apache/conf/modsec2.conf"
After you save the changes made in the httpd.conf, restart Apache Web Server.
/etc/init.d/httpd restart
Now you can delete files that begin with "modsec2." / Usr / local / apache / config.
For servers that have installed WebHost Manager (WHM) ModSecurity uninstall procedure is even simpler. Go to cPanel / WHM on Addon Modules and click Uninstall the mod_security module.
STEALTH SETTINGS – REMOVE & UNINSTALL ModSecurity (mod_security).
Delete or Uninstall ModSecurity (mod_security)