Most times, when Windows refuses to bootCause is BCD error (Boot Configuration Data). In such cases, the majority system administrators use command line utility Bcdedit.exeWhich enables them to create, edit or to delete entries from the BCD to Errors Fix boot. This utility is easy to use but not by users of the common operating systems WindowsAnd any mistake command lines Operating systems can become nonfunctional (Not boot).
Dual-Boot Repair Tool is a free utility si portable (No installation required) with which Windows users can fix MBR errors (Master Boot Record) PBR (Partition Boot Record) and BCD via simple interface and easy to use and understand.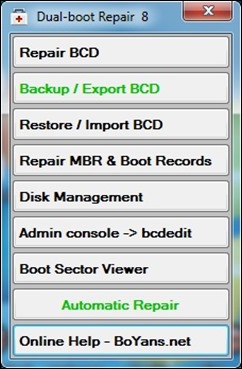 Dual Boot Repair Tool main options:
Repair BCD - Check the Boot Configuration Data to identify incorrect parameters and resolve any error which blocks the system boot or boot cause incorrect
Backup / Export BCD - allow creating backups BCD (Recommended creating such a backup before you make any changes)
Restore / Import BCD - allow BCD's restoration nterior from a backup made with this utility
MBR & Boot Repair Records - Fix problems and errors MBR's and errors NTLDR (NT Loader); also write new boot sectors to replace the defective or non-standard sectors
Automatic Repair - If you are not sure what problems the system, use this option to try a automatic repair theirs
The remaining options are shortcuts by s native tools the system (disk Management or usefulness bcdedit) and for help page for tool available on the developer's website (online Help).
Download Dual-Boot Repair Tool.
Note: Utility compatible with Windows XP, Windows Vista, Windows 7 and Windows 8 / 8.1
STEALTH SETTINGS - Repair Windows errors BCD with Dual-Boot Repair Tool
BCD fix errors in Windows Dual-Boot Repair Tool