From time to time it happens to May welcome and each one hard drive errorEspecially if it has gathered a couple of years and provides (almost) non-stop. In such cases, WinXP gives us the option to check HDD errors (many are and are sectors affected) by Chkdsk.exe. But it is necessary to restart computer and then wait (sometimes quite long and irritating) as usefulness to make damblaua (ie, finished scanning the HDD).
CheckDiskGUI is a free applicationwith simple interface and easy to use, with the same characteristics as Windows CheckDiskThe difference being that, because there is no need to restart the computer, check HDD can be done in parallel with other activities (browser, editing documents, watch movies etc.). In addition, CheckDiskGUI presents options Reparation si Repair & Recovery HDD sectors and data on it.
How does CheckDiskGUI?
When you run the application, it lists all partitions / HDDs existing system. Depending errors, you can select one or more partitions for them to be checked.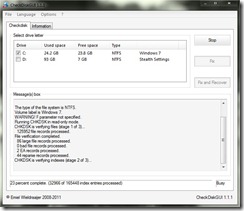 if you just want to check HDD for errors after you select partitions, click on Read Only (This option will not restart the PC and will allow you to use your computer while checking).
if you want to repair any errors that might be found (or found errors already), click on Fix or Fix and Recover (to repair and recover data written on the affected area). Note, however, Fix and Fix and Recover options require a restartBecause repair sectors occurs during booting into Windows.
Note: Compatible with Windows XP, Windows Vista and Windows 7.
STEALTH SETTINGS - Fix disk errors with CheckDiskGUI.
Fix Errors hard drive with CheckDiskGUI