Often happen to welcome errors you want to open different documents, to extract archives or to photo files or videoMost likely due to the fact that they were damaged by malware infections, unexpected power failures, software errors or network interruptions (Local or Internet).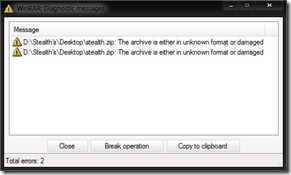 In such situations, most users choose to delete these corrupt files without trying to fix them, but what about when your files are among some of major importance which, unfortunately, we have made backups?
File Repair is a free application which can be a real help when we want to save file corrupted by viruses, transfer errors or power outages. It allows repair various types of files, such as Word or PDF files flaws, video or audio files corruptor damaged archives.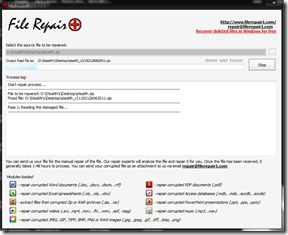 What are the types of files that can be repaired using File Repair:
Word documents (. Dock. Docx,. Docm,. RTF)
Excel documents (.xls,. xla,. xlsx)
Database (. Mdb,. Mde,. Accdb,. ACCDE)
PowerPoint presentations (. Ppt,. Pps. Pptx)
archives (.zip,. rarely)
PDF files (.pdf)
video files (.avi,. mp4,. mauve. flv,. wmv,. asf,. mpg)
Audio files (.mp3,. wav)
photo files (.jpg,. jpeg,. gif,. TIFF. bmp,. png)
What are the types of errors that File Repair can repair:
unable to read files (unable to read file)
unable to access files (file can not be accessed)
unable to recognize the file type (file is not in a Recognizable Format)
unable to open the type of file represented by filename or extension (application or software can not open the type of file represented by file-name)
errors caused by memory or insufficient resources (out of memory or system resources Low)
Note: File Repair is compatible with Windows XP, Windows Vista and Windows 7.
STEALTH SETTINGS- Repair damaged or corrupted Windows files with File Repair
Repair damaged or corrupted files in Windows File Repair