users Windows who have never had problems with viruses, trojanii and other animal kind most likely are endangered species or, more plausibly, not more than a few hours (and already is much) when they familiarize first with a computer. The rest of the users, which have been visited by at least two times of different types of malware (For that visit the once endangered all are) know how difficult it is to save a system after it was virused. Even if uninvited guests are identified and "evacuated" most often leave behind affected registry si corrupt system files that can give great trouble. And how to take the hand of each of them is extremely meticulous and stressful, most often opt for a reinstallation of Windows.
Re-Enable is a free application, Available also as installer si portable, With which users who are affected systems Virus can reactive sites and the tool most vital functions for Windows:
Windows Registry
Command Line Tool
Windows Task Manager
System Restore Config
folder Options
Run command
My Computer
Task Scheduler
Right Click Context Menu
Msconfig (only for XP)
control Panel
Search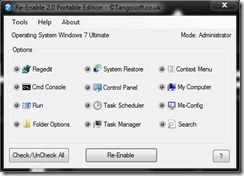 Re-Enable also allows scan, editing si Autorun.inf deleting files, Change protocol files, to hosts, to networks, to folder attributes and status of system services, Help repair Desktop icons corrupted or background of its sites, fix problems Startup a explorer.exe, Show hidden partitions etc.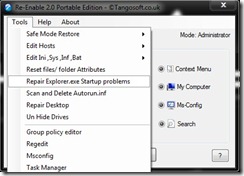 In conclusion, although currently the new antivirus not disappointed or have learned to be more cautious and Windows you do not "suffer" from any disease, it does not hurt to keep re-enable almost any eventuality. You could save a forced reinstall the operating system and lost some time. ;)
Note: Re-Enable you place no antivirus, antimalware scanner or any other software of this kind. Before using this application various Windows components to repair corrupt / damaged, make sure you identify the causes of problems and that you have already cleaned your computer from viruses that put him in intensive care.
Virus repair affected systems to Re-Enable (Windows only)