Miscellaneous Virus or inattention when edit system files vital for the functioning Windowscommunity can leave OS in complete chaos or in a continuous state of hibernation (Ie no matter how you ask him he will not bother you boot). A very effective way to "revive" a operating system Windows XP who decided (willingly or forced certain circumstances) make an "unplanned vacation" is the one we describe below. But before you read the information below should know that:
1. to use this method you must have a valid license at hand Windows XP and an installation CD of this operating system
2. even if this method gives very good results in most cases, the possibility exists that sometimes do not do their work even as we praise November (Which means that those systems that do not work for this solution were greatly affected and will be reinstalled traditionally - with the format and everything, which is why all as may periodically make backup personal data)
How we can repair an operating system Windows XP without compromising the files on it
First enter XP installation CD in unit CD-ROM and give a restart computer
After the restart you will be asked to press any key to boot from CD
When it arrives screen Setup press Enter (Ignore that for Repair you are told to press RNot the case in this method)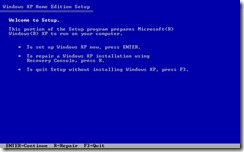 When display screen License Agreement press F8
Select the drive where you installed XP affected and press R key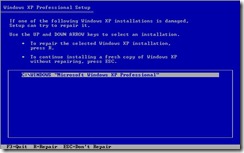 Then wait between 15 and 30 min (if necessary) until new files Windows XP They will be copied hdd (System partition)
After the new files are copied to the HDD, PC will reboot. You can remove the CD Installation At this point, or you can choose to remove it after restart
If you have not removed the installation CD before the restart, when you see the message "press any key to boot from CD" careful do not touch any keyBut wait until there's boot screen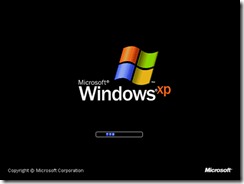 Even if you see XP boot screen's, "Resuscitation" is not over yet. You will have to wait another half hour (or more) until the installation is complete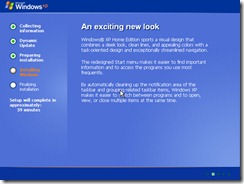 Click on Next window will appear when Regional and Language Options
You will then be prompted to enter OS license
After you have entered license validation of XP, The PC will restart again. After restarting, your system should look the same as before it started to run its nose (probably the image on Desktop will be changed to the official one, otherwise all programs and files will be - or should be - in place). But do not forget to reactivate Windowsonline to get the security updates, and install a good antivirus and a back-up program to make sure you won't get to the point of this article.
Fix your full XP without losing or compromising data and programs on it