Keeping files in archives It is one of the most common data storage methods (backup). After RAR, ZIP is archive format most used by users Windows - Especially by those who tend to do p2p sharing, by torrents or Magnetic links, Primarily due to economy of space. But there are cases when, for various reasons, ZIP archives can not be openedThey are corrupt or affected by something errors.
If you encounter such a problem, in which one or more ZIP archives displays error messages when you want to extract archived files or when you want to open those archives, a safe is DiskInternals ZIP Repair.
What is it and what do DiskInternals ZIP Repair?
DiskInternals ZIP Repair is a free application which repair internal structure ZIP archives defects and help extracting data thereof. Recover files from corrupted archives is automated via type interface wizard, Which makes the whole process to be simple and easily performed even by inexperienced users.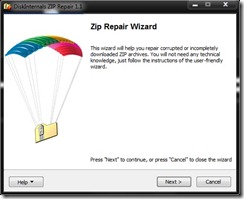 After selecting archive damaged, it is scanned to be identified all the files contained therein. With the help of special functions integrated in DiskInternal extracting ZIP Repair and recovery due to high accuracy can be affected not only extracts from archives files intact but also partially corrupted filesThey are saved in a new archive, accessible.
They supported files of any size, and the program has the ability to enhance the standard zip applications with a auto-recovery feature.
Note: Compatible with all versions Windows XP, 2003 Server, Vista, 2008 and 7 Server. The recovered files can be saved on any partition (including network) visible from the host (host operating system).
Repair corrupted ZIP archives with DiskInternals ZIP Repair