When your computer is used by other users (family, friends, work colleagues), most probably do not want them to have accession certain files, documents or applications installed on it. While you can hide files and folders using various methods (the simplest solution is checking the option Hidden in their properties), when it comes to applications, even delete shortcuts them from the desktop or Start Menu/Start ScreenThey all can be accessed from Program Files. Therefore, to block other users from certain applications installed on the system, the easiest is to use a third-party software as Simple Run Blocker.
Simple Run Blocker is a free utility through which users can restrict access other people using the computer selected applications by them. Interface utility is extremely simple, users can add applications that want to restrict access by a simple drag & drop (Drag executable respective application over utility interface), or by clicking on picture and selecting the executable).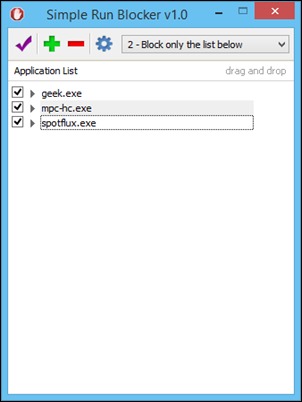 Also, using the menu drop-down displayed at the top right of Simple Run BlockerUsers can quickly create access lists (whitelist) or Restrictor (blacklist), Or deactivate for all applications listed in the program. Creating an access list, users can block access to all applications installed in the system except those in that list and creating a list of restrictions, users can block access only to the applications that are in the list. After creating one of the two lists possible that changes made to take effect (ie, applications that access be blocked), click on the button Save (check mark).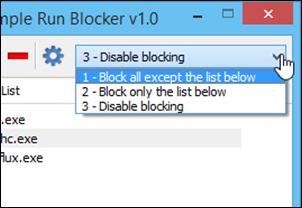 After this setup, whenever a user will try to access an application on the blacklist (or not found on the whitelist), the system will display a error message specifying that access to that application is restricted.
Note: Simple Run Blocker is a portable (non-install) application compatible with the Windows XP, Windows Vista, Windows 7, and Windows 8 / 8.1 operating systems
STEALTH SETTINGS - Restrict access to Windows applications with Simple Run Blocker
Restrict access to various applications in Windows with Simple Run Blocker