Whether you are administrator network to a company, school or internet cafe, or a "divider" computer staff with family or friends, you probably set more users accounts to access system (Or systems) operating. Either way you go, even if those users are restricted to certain actions, they can always chooses to change passwords to access accounts. If for some reason you do not want this to happen, there is a very simple method that can prevent users changing passwords.
How can we prevent change login password in Windows 7
First, note that you must be logged in as Administrator (Or a user belonging to the administrators group) To use this method, then follow the steps below:
open Local Users and Groups (type: lusrmgr.msc in Search site from Start Menu)
then click on Users in the left pane to display the list of users of the PC
in the right pane, right click on users to change passwords that prevent you login, then select Properties menu displayed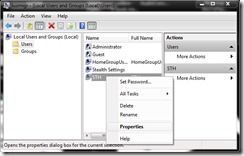 in tab General check box next to User can not change password then click on Apply and on OK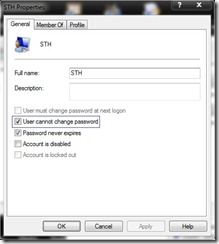 After applying this method, if one restrict users want to change login password on WindowsMessage Windows can not change the password will be displayed on the monitor.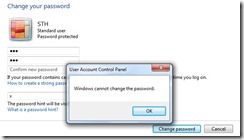 If that user will access Users Properties and try to uncheck User can not change passwordWill appear following error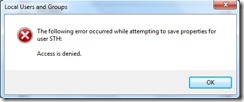 Note: This method is valid only for Standard Users and does not work for users belonging to the Administrators group.
* Tested on Windows 7 Ultimate.
Restrict change login passwords of users in Windows 7