7 Quick Fix is small and efficient tool that will help you resolve the errors incurred operating systems Windows 7. errors may occur either as a result of UpdateS unfair or after infection with a virus - malware or due to Incorrect changes in settings Windows.
7 Quick Fix solve a number of system errors and networking.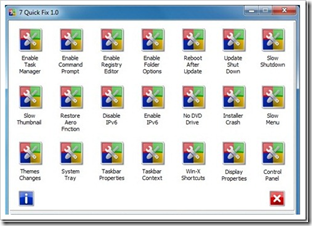 - Enable Task Manager - For cases where Task Manager can not be opened.
– Enable Command Prompt
- Enable registry Editor - A lot of viruses affect Windows Registry (the heart of the operating system)
- Enable Folder Options
- Fix slow thumbnail - reduces the thumbnail-sized preview when you access a folder with lots of pictures.
- Restore AERO Function -
– Disable IPv6
– Enable IPv6
- Prevent Themes from making
- Fix system tray icons missing - If you do not find the icons in the upper right corner of the display, this option brings you the back :)
- Enable / disabled Taskbar Context
- Fix Slow Shutdown - Closing speeds PC.
- Reboot after update
- No DVD drive - is going to occur of errors which will prevent them from seeing driveThe (partition) unit DVD / CD.
- Display Properties
- Enable / Disabled control Panel.
Download 7 Quick Fix - qf.zip
This application is portable (portable application) And requires no installation. All you have to do is unzip the file above and run qf.exe of the created folder. application 7 Quick Fix is free.
Compatibility: Windows 7.
Solve Errors in Windows 7 (7 Quick Fix)