If by chance your task to solve some problems of a secure computer and discover predictable way, as Run is disabled... I do not remain very many options. or reinstall Windows, Risking to lose some data (or perhaps all - not suitable if it comes loose ends or if you are administrator that PC) or call one of these applications (Free), readily available on the internet that successfully replace Run's functionality:
1. RunMimic - application freeware, portable (No installation required), it looks and works just like Windows Run Command. Commands such as msconfig, regedit, cmd, dxDiag, services.msc It works perfectly.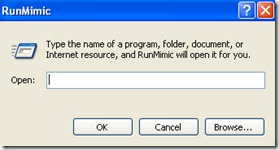 But to use RunMimic need to have installed on your computer .NET Framework.
2. If the problem computer does not have .NET Framework installed, you can use throw a second identical application Run Command, which do not require .NET application, namely Run Dialog Replacement.
Both applications successfully replace the original Windows Run Command and allow access registry, in command promptacquis or even control Panelacquis.
Download Run Dialog Replacement.
Solve the problem of deactivation / lack Run Command