Only a few days before the launch macOS High Sierra, operating system that will be available at download and install on all compatible devices starting with 25.09.2017, Apple launches a consistent update for the public Safari. Internet browser developed by Apple and installed by default on all operating systems macOS and iOS (for iPhone, iPad si iPod touch).
What's new and what's new in Safari 11.0 for OS X El Capitan and macOS Sierra
The new version of the browser brings some very important changes for the users. First, Apple focus on security and on user safety.
Websites that use SSL and do not have valid certificates, can not be accessed until after the user is aware of the danger they are exposed to. As compared to the previous version, the message is more obvious and involves two clicks instead of one to access the web page.

This Connection is Not Private

"Show Details"&"visit this website", If you understood what the risks are.
Also for added security are added new cryptographic algorithms for the latest version of a WebCrypto API. AES-CFB, AES-GCM, ECDH, and PBKDF2.
Other news in Safari 11 :
Intelligent Tracking Prevention - blocking the scripts from the source of the websites, which aim to track the user's online behavior. They are used more by advertising and survey agencies.
ADDRESS File Restrictions - Restricting access to local files through the browser "file: // ". However, this option can be activated from the menu dedicated to developers. Disable Local File Restrictions.
Website blockingfixes may infected or Phishing, using the service Google Safe Browsing.
support real-time communication, using WebRTC (Media)
Custom control settings for each website: Bedroom, microphone, auto play, reader, content blockers, location.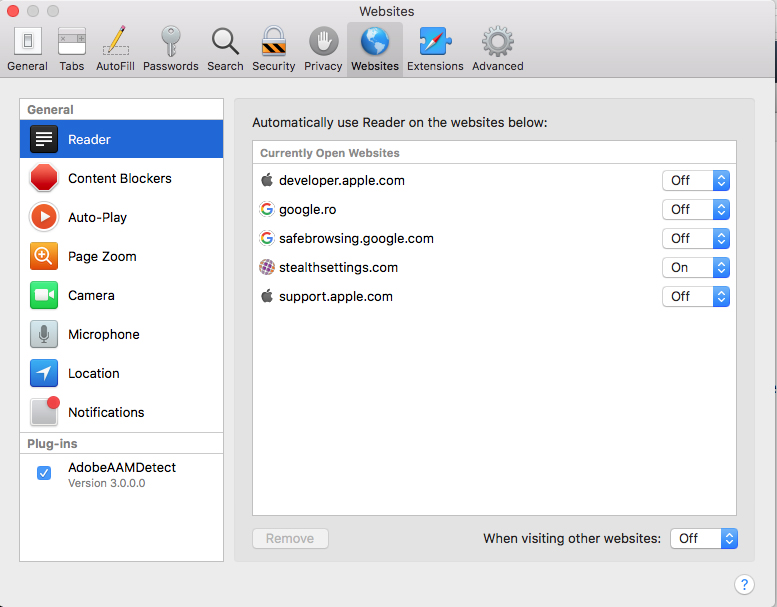 disable auto-play for video and audio when accessing a web page. You can select websites for this feature to be disabled. The above section.
Improved AutoFill for personal dart, credit card and addresses.
Safari 11.0 is available in App Store all the devices Mac with OS X El Capitan or macOS Sierra. App Store → Updates.