Over time, any computer begins to move increasingly more difficult because Registry errors or installed programs which running in the background or because files memory left of uninstalled applications. This results in a significant decrease PC performance and implicitly to situations in which better wait a few minutes until it starts (startup) Or stops (shutdown).
PC Optimizer Pro Startup Booster increases startup and shutdown speed computer by solving problems underlying its operation difficult.
PC Optimizer Pro Startup Booster features:
Help scan, repair registry errors and optimizing to improve your computer's startup speed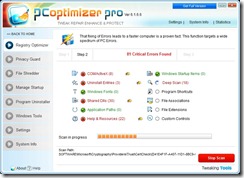 Comes with File Shredder, Utility can completely erase files from your system
Check and displays detailed information about the operating system Windows
Uses various methods of managing different applications related to Windowsul
Application uses Track Eraser to clean all traces of Internet activities or computer, thus ensuring users privacy
Also, users are helped to uninstall easier unwanted programs and applications the system
Download PC Optimizer Pro Startup Booster
Note: PC Optimizer Pro can be downloaded for free but to use all feature of its sites have upgraded to the full version.
STEALTH SETTINGS - Speed ​​up Startup & Shutdown time of your PC with PC Optimizer Pro Startup Booster
Startup and Shutdown time decreases PC to PC Optimizer Pro Startup Booster