How many times have you happened to slam a fist into the keyboard or monitor (possibly a foot unit - Have fingers!) When PC screen Your turns into a "beautiful" wall painting (hopefully only figuratively though we know how it is with their desire to stick to the wall, especially when dead-line knocking on the door)? Ingredients needed: a non-responsive application (Of course matter and degree of stubbornly thereof) and a CPU overwhelmed and is only good picture framed.
Commonly solution for those who face this problem is Task ManagerThrough which any application or process non-responsive may be forced to close, but sometimes fate makes the famous key combination Ctrl + Alt + Del which should convince Task Manager to appear in landscape "painting" does not work. And so restart knocking on the door just when you want most as Microsoft not have invented it.
Antifreeze could be (not sure yet: D) ​​answer to the problem of repetitive "freeze" your PC to complete this program as a kind of back-up for traditional Task Manager.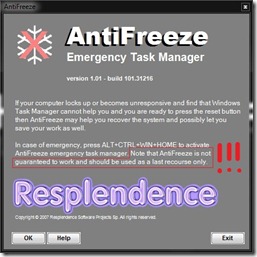 How does Antifreeze?
In the moments that application unresponsive CPU memory and forces your computer to run at full capacity, it is highly unlikely that Task Manager to submit the report when Ctrl + Alt + Del. Still do not know how successful, but Antifreeze relatively easy to pass over this inconvenient (at least in our case), and convened The combination Ctrl + Alt + Win + Home makes its appearance on screen displaying all running processes in Windows, allowing the user to terminate processes that cause computer lock (Usually they are the ones that consume the most resources).
After installation, antifreeze is registered only as one of the programs StartUpthen will run in background computer waiting to be activated (Ctrl + Alt + Win + Home). How long is in idleThis application does not consume more than 1MB memory.
Note: Because the application can be launched immediately after installation it is recommended to change properties to run with administrator privileges, or right click on the icon on ktop often (or in the folder C: Program FilesAntifreeze) and select Run as administrator from the menu.
Attention! Using antifreeze when intervention is needed to unlock the program PC can lead to unpleasant consequences such as freezing its effective. Therefore our advice is to use antifreeze only in extreme cases when all other methods fail release.
Get rid of non-responsive applications that block with AntiFreeze computer (Windows Task Manager backup)