When it happened the last time you read a review about Android app and follow a link to download only to be greeted by a message saying that that application is not available in your region / location you? Certainly most of the users Android devices have been in this situation once. There are also users who already know enough and that certain applications such as Hulu, Spotify or VevoPopular in regions where available, are restricted to regions in which they live, but that does not prevent them to want to use them.
No matter which of the two situations described above will know, the solution to get rid of restriction region when it comes to Android application availability is the use of VPN service (Virtual Private Network).
Free Android VPN is one such service given free Android device users. To use this service and benefit from security offered by private networkFollow the instructions below.
for Android versions older than 4.0, give tap on Settings and select Wireless & Network> VPN Settings> Add VPN> Add PPTP VPN
for latest versions of Android than 4.0 (Inclusive), open Settings and select More> VPN (under Wireless & Networks) And give tap the button + (Or menu button displayed in the upper-right corner, then click Add VPN profiles)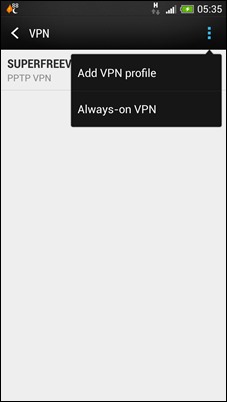 under Name enter SUPERFREEVPN
under Type select PPTP
under Server address enter superfreevpn.com
then mark (if not already checked) option PPP encryption (MPPE) and give tap on Save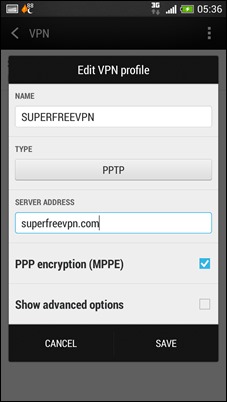 After you set VPN, Please tap on it to be connect with, A dialog will appear where you need to enter credentials to connect:
la username enter free
for password (Password) enter 1120
then check the option Save account information and give tap the button Connect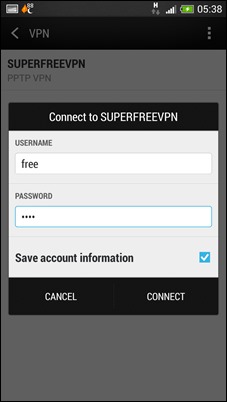 After you will connect to the Internet through service Free Android VPN will have access to applications only available to U.S..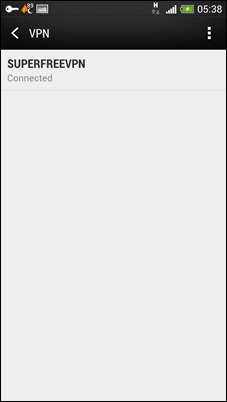 NOTE: If you want to download / use applications available in other regions, use Astrill applications like VPN, which allows you to select servers from several regions such as China, Sweden, Germany, UK etc. (Astrill VPN application is free, but paid VPN service after a free trial period 7 days).
STEALTH SETTINGS - Get rid of region restriction on Android with Android Free VPN
Get rid of the restriction regions on Android Android Free VPN