Those who use 7 Windows Beta know what I mean. To watermarkThe one who grins in our account right corner of the screen. For testing Purposes only. Built 7000.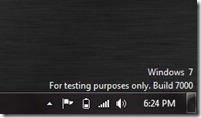 I do not know how it is for others, but for me it's always stressful to be reminded that using a trial. So I tried different patchATVs and hackLinks to get rid of "badge", with no results. So far, so finally my monitor is chub. And I do not mean icon-hate.
Remove7Watermark is a script (One that has worked so far) that removes the "inscription" in the upper display, leaving time to breathe free. : P Note, however, that this script only works for Windows 7 built 7000 and yet only English version (I-US).
Download Windows 7 Remove7Watermark built 7000.
The script must be run with Administrator rights. It will install a patch to look user32.dll.mui after you make a backup of it in folder % Systemdrive% User32Backup and a backup user32.dll.mui.bak folder % Windir% System32en-US. To uninstall the patch (and return watermark on the small and big screens), just to Copy the file to the original folder (Or rename it).
Get rid of Watermark built in Windows 7 7000