Windows 8.1 came bundled with many enhancements Start Screen regarding options Customisation of it: more sizes tile sitesAble to Uninstall several applications at the same time and the ability to set Desktop wallpaper on ca background for Start Screen. Also, users can now choose from a variety might well exceed wallpapers si default colors for customization Start Screen's background community.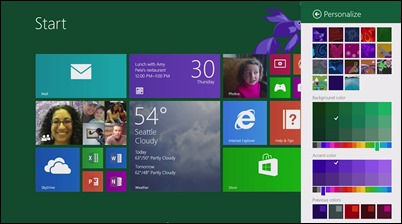 If used to often change color or wallpaper on Start ScreenAnd every time you want to assorted automatic color Taskbar and window borders to it, then we recommend WinAero ColorSync.
WinAero ColorSync is a freeware utility which allows users to automatically change taskbar color and window borders from Windows 8.1 depending on the predominant color in Start Screen's background's.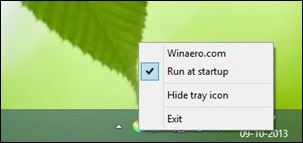 application does not require installation and has GUI (It runs in the background and place a icon in systray which allows the administration). Users can set WinAero ColorSync run whenever boot my right-clicking the system tray icon and selecting Run at startup (Also, they can closes the application or Hide the icon in systray using the same menu - Display of new application in systray even after restarting the system, users must application run twice).
Note: Compatible with Windows 8 and Windows 8.1 (32 and 64 bits).
Credit @ winaero
STEALTH SETTINGS - Automatically set as the Windows Start Screen background color borders and taskbar color in Windows 8.1
Automatically change the color of window borders and the taskbar in Windows Start Screen background color after 8.1's