Once in 2012 Microsoft had to give the name of Metro interface for Windows 8, Replacing it with Modern interface (Responsible for this change are those in German Metro AG), It seems that this year comes with new name change a product of the company, namely renaming SkyDrive in OneDrive (Obviously, and there is a charge for this update, this time being about British Sky Broadcsting Group or, more briefly, BSkyB).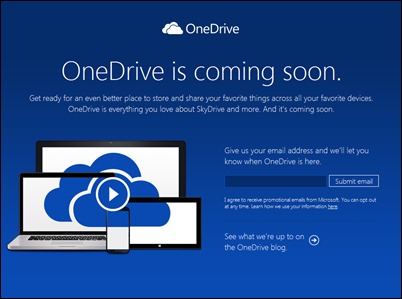 After a few days, Microsoft made official announcement such as SkyDrive will become known as OneDrive soon, the company's explanation for change of name a online storage service is one little poetic than real, and that is that users, even using several devices (Laptop, phone, tablet) do not want only one place to store files important, such as documents, pictures or videos:
Why OneDrive? We Know That You Will Have Many devices increasingly in your life, but you really want only one place for your most important stuff. One place for all of your photos and videos. One place for all of your documents. One love That is seamlessly connected across all the devices you use. You want OneDrive for everything in your life.
The good news is that SkyDrive users will not have problems in terms of use Online Service, Microsoft guarantee that it will be uninterrupted, the only change being only its name and website that user files are available (onedrive.com instead skydrive.com). Most probably will be shortly launched a Update for SkyDrive applicationThat will apply and the name change will ensure that the files will be used to access new domain name.
Momentary SkyDrive is still functionaland OneDrive has not been releasedUsers can learn more details about modifications to the online service onedrive.com.
STEALTH SETTINGS - SkyDrive changes in STI name OneDrive
SkyDrive changes its name to OneDrive