Although most users have already tested Windows 8 were common (and some even like) the new Start ScreenAre still many who argue that it is more suitable for tablets si touchscreens and still say they would prefer to be able to use Start Menu.
If you count and you among the last category mentioned and you want to be able to continue the Start menu in Windows 8, We have the solution for you as a freeware utilities, namely Start8.
Start8 is as I said, a free application allowing users Windows 8 RTM (Other applications such as functional Consumer si Preview release does not work for RTM) to use this operating system un Start Menu in the style of the Windows 7.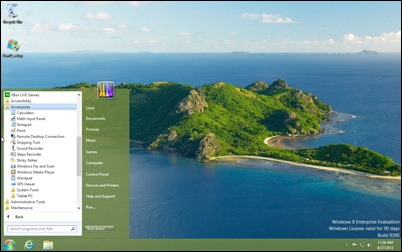 What are the Start8 features for Windows WHAT IS RTM?
One of the most interesting characteristics of Start8 is that although it looks Start Menu from Windows 7, Shows improvements and features for Windows 8:
Users can search si Metro access applications
support Pin for applications desktop si Metro applications
full support for Jump Lists
option to boot directly into Windows 8 desktop
easy access to Shutdown, Music, documents, devices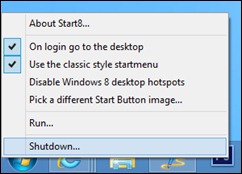 Other features Start8:
automatically matches Start menu color with the Taskbaracquis
the possibility to customize the Start button
option to disable "hot corners" (for Charms si Switches) on desktop
support animations
easy access to Windows NEVER Start Screen Start Menu
the possibility to customize the start menu size
add option for key Windows to display desktopMetro in full screen
STEALTH SETTINGS - Start Menu Windows NEVER style for Windows 8 RTM with Start8
Start Menu in style Windows 7 in Windows 8 RTM with Start8