A helping hand for parents who want to know what their children do on chat. Who speaks baby? Is dubious friends? He learned to swear? Is dubious ideas? Etc ..., questions like what's confronting some parents. (I saw the statistics ;)). A true bread for the / those bothering to find out if your partner is cheating relationship and if it is going to make copies online. "Someone broke into my friend's messenger password and want to recover. please help me! "- Really? :) Comments such are plenty and many did not get the software to crack passwords does not exist. Instead of monitoring solutions on IM conversations are enough. Except for a parent who wants to know what the baby on the net, not advise anyone to use such programs.
Stealth Chat Monitor is completely invisible (not shown in Add / Remove Programs and Task Manager) and very easy to use for those who want to record chat conversations that took place on a computer. Application is very complex and record chat conversations in chronological order from the most popular services of IM (Instant Messaging) Yahoo Messenger, MSN, ICQ, IRC, Google Talk si Skype. All conversations are saved and can be viewed by Web interface or email (Software is able to send recordings to an e-mail). The program is protected with a password + hotkey, to be accessed only by the person who installed it. All information collected by this IM logger are saved encrypted in secret folders.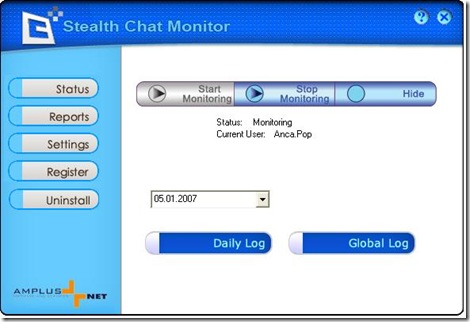 (Ah. program is made by the Romans. I noticed after I inserted the picture in the article. LOL. During this same program I discovered that bears the name "Inside Chat Spy"But it is the same price Stealth Chat Monitor ($ 29.95).)
System Requirements - Stealth Chat Monitor:
Surgery System: Windows 2000 / XP / 2003 / Vista
Internet Explorer: IE 5.0 or later, Opera, Mozilla, or Netscape Avant
486 CPU or higher
32 MB RAM
20 MB free disk space
Internet Connection
For download for free si achizionare software, visit: inside-logger.com
PS. The software allows it to be programmed to save logs in a certain period of time and / or delete logs after a while.
Stealth Chat Monitor IM