2 weeks ago Microsoft has launched OS Windows 8.1It is made available free (in the form of Update) All users Windows 8 by Windows Store. Some of the users who made upgrade to Windows 8.1 via Windows Store complained after Install new operating system as Start Screen or App List are displayed shortcuts "death" by modern applications that users were used in Windows 8Before the upgrade (if you click on any of these shortcuts faulty error message is displayed This app can not open).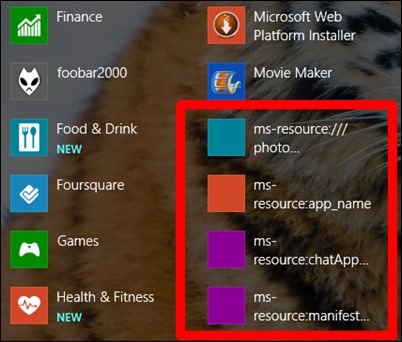 If you are one of the users and who have encountered this problem after upgrading to Windows 8.1Most likely use antivirus Avast for security system (It seems that the problem is caused by interference antivirus with the reset / cleaning of applications and the update the shortcut icons during upgrading system). Unfortunately the solution is not very simple. If you click on the link Go to store displayed in the error message, users are greeted by another error message:

And if you right click on any of defects shortcuts, Does not show any option Removal / Uninstall its (the only options available are the Pin to Start si Customize).

So how can we remove the faulty shortcuts of modern applications after upgrading to Windows 8.1?
The only way that this problem can be solved (at least temporarily, given that disable antivirus gave no results) Is:
Go to C: \ Users \ user-name \ AppData \ Local \ Microsoft \Windows\ applicationshortcuts (where C: \ is the partition where the system is installed and user-name is your user name)
identified defects shortcuts entering the bar Search displayed in the upper-right Exploreracquis keywords thereof (for example to ensure, chamber, Microsoft, bing etc.).
then delete shortcut displayed as a blank tile (Before you have to pay permissions order to remove those shortcuts)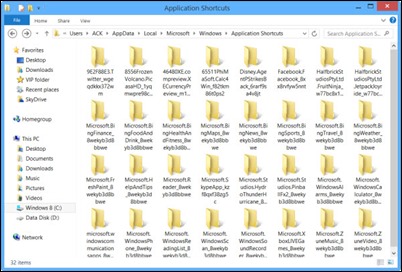 also location can sort subfolders by date, The oldest of which contains problematic shortcuts (It is recommended to delete the row acestra to ensure that you do not delete shortcut links available)
Success!
Note: The above method may not work for all users Windows 8.1 that encounters this problem! More information found here.
STEALTH SETTINGS - Delete Modern App broken tiles after upgrading to Windows 8.1
Clear the defective tiles of modern applications after upgrading to Windows 8.1