RSS is the best solution to receive a single place actualizatrile and updates from multiple websites. we have news sites They are interested in sites that provide us periodically IT News, personal care, health, science or any other field. To be updated on the latest articles published on these sites, we have several options. One option would be to access the web pages every day, using a bookmark. Not too convenient to open dozens of your favorite websites and search the latest articles on them. Another option offered by most portals issubscribe to E-mail. Newsletter. It is a simple, convenient, but it risks fill our mailbox with spam messages. In addition, it is possible that not all articles published recently dispatched by e-mail.
The "clean" and safe method is subscription via RSS la flow of updates.Most websites offer their users to subscribe to news via RSS Feed flow.
So show sign / icon that attracts the attention of visitors the site allows you to retrieve RSS feed.
users Windows and Mac OS X have at their disposal more programs / applications of type RSS Reader, Which allow connection to a stream of recent news articles and view the stream.
On Mac OS X, most use third parties RSS Reader applicationsSuch as: Leaf - RSS News Reader, NewsSonar, Master RSSEtc. apicatii kind. There is also a solution to subscribe to an RSS news feeds without having to install any applications. Safari - default browser installed on OS X - allows to subscribe to news feeds and view them directly in the interface.
How to use RSS Reader Safari on OS X Yosemite and El Capitan
First you need to open Safari sidebar (click on the icon "show sidebar'), Then click on the icon "@"To reach the" Shared Links "and" Subscriptions ".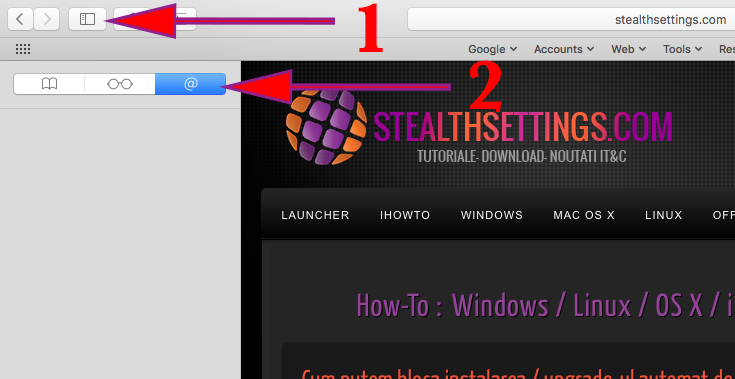 In the bottom of the sidebar's do click on "Subscriptions"Then on the"+ Add Feed"And in the dialog box that opens name web site, click on the button add Feed.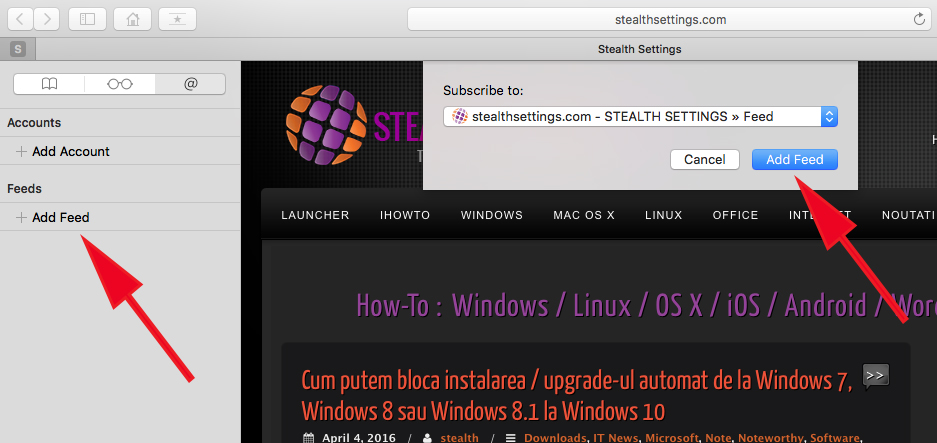 After this step, the sidebar under "Feeds" will appear on behalf web site which you have subscribed. Click on the button "Done"Safari in the bottom of the sidebar. Now, you open the sidebar, or appear to "Subscriptions" most recent articles published on sites you've added to feed.
It's a pretty simple and practical method that lets us install a third-party RSS Reader on OS X. I did not say this is the best option for a user who wants to feed dozens of web addresses. The RSS reader in Safari does not allow the addition of articles in a "Favorites" category dedicated to the news stream or sorting them across multiple categories.
How-To Subscribe to RSS Feed Safari / Mac OS X El Capitan & Yosemite