It is no joke. It is an online service (tested by me) which allows you to call from PC any phone number you almost anywhere in the world (including Romania). I do not know if you can call and premium rate numbers, but I tested my PC on Orange number and it worked. The service is offered on the Internet EvaPhone and allows you to make free calls using VoIP. To take advantage of this serviciuaveti need a computer connected to the internet and of course, a number of phone call :)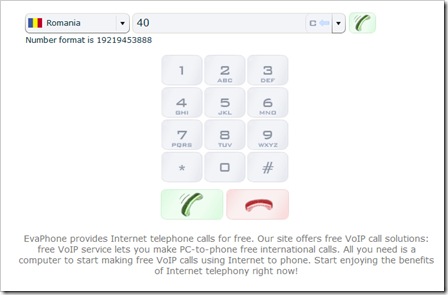 Talk time (free) is limited depending on the destination call. From 00: 04 10 seconds to minutes. You have to address evaphone.com / destinations list of countries and offered free talk time each. Of course, you can purchase credits that can be converted to talk time. Price list is displayed on the site evaphone.net, along with other details about this service.
EvaPhone provides Internet telephone calls for free. Our site offers free VoIP call solutions: free VoIP service lets you make PC-to-phone free international calls. All You Need is a computer to start making free VoIP calls using Internet to phone. Start enjoying the benefits of Internet telephony right now!
Call free on PC, anywhere in the world.