At the exhibition Mobile World Congress 2015, Lenovo unveiled new models TAB 2 A8 si A10-70Based on the support Android, Together with MIIX IdeaPad tablet 300 cu operating system Windows.
Ranked in the category of affordable tablets, new devices Series A include speaker technology Dolby Atmos, Promising a superior experience to listening to music and watching your favorite movies. Light and thin, Lenovo tablet TAB 2-10 A70 is willing inch display with 10.1, supporting Full HD resolution. Owning mm thick and weighing 8.9 500 grams, the tablet may be a good choice for multimedia enthusiasts. Motorized version Android 4.4, Run on a configuration with quad-core processor (MediaTek chipset) Tablet with a price less than USD 200 offers a camera and includes 8MP dual-band WiFi module for fast Internet access. TAB A2 10-70 is available in two colors: Pearl White and Midnight Blue.
Lenovo TAB 2 A8 is the first tablet to use the original operating system Android Lollipop 5.0. Framed in the entry-level range, the new model comes to those who want to stay connected, making a minimal investment. tablet 7 HD HD screen meets the requirements of access to social networks, online video conferences. Weighing only 360 grams, the tablet is much lighter than the model TAB-2 and 10 A70 as thin, located inside the battery providing approximately 8 hours mobility of the charge. Like its predecessor, TAB has 2 A8 MediaTek processor with four cores. Also, the tablet allows storage expansion up to GB via 32 microSD memory card and it is available in four colors: Pearl White, Ebony, Midnight Blue or Pink Neon.
Lenovo IdeaPad MIIX 300 is a tablet optimized for productivity activities. Designed for those who prefer the user experience WindowsThe new tablet 8-inch IPS display (1920 × 1200 resolution) has as main advantages the portability and the familiar work environment to the users Windows. Tablet with system Windows 8.1 It is supplied with pack Microsoft Office 365With an included subscription for a year. Tablet motorized Intel Atom platform 64GB has internal memory (eMMC), microSD slot, WiFi connectivity and BluetoothOr two cameras.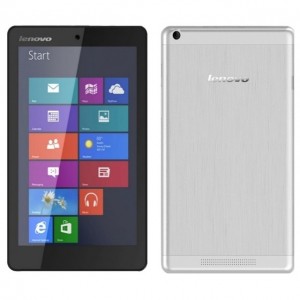 Lenovo TAB 2 A10 will be available initially at $ 199 for the WiFi model and $ 279 for the LTE version, starting in April. Lenovo TAB 2 A8 will arrive in June, with a starting price of about $ 129 for the WiFi model and $ 179 for the LTE model. Lenovo ideapad MIIX 300 will be available starting in July, at a price of about $ 149.