How to take a screenshot with custom keyboard shortcuts on your Mac
There are many situations where we need to take a screenshot that is for us to keep it or send it to someone.
For users MacOS, a screenshot It can be done very quickly, without needing to open any application, and it will automatically save to the Desktop very high quality, in .PNG format.
The combination of keys (keyboard shorcuts) can be set to four scenarios in which it can make a screenshot.
Saving a picture of the entire screen on Desktop. On the desktop will appear automatically a file type "Screen Shot at 2017 01-19-22.10.51".PNG Format.
Saving a certain area of ​​the screen, in a picture. Just like at 1.
Copy the whole image screen (full screen) to the clipboard. Ie it can give "paste"In documents, chat, photo editors, without the need of a physical desktop saving the file capture.
Copying an area of ​​the screen to the clipboard. Identical to point 3, except that here it is just an area defined by the user.
How we can set custom shortcuts on MacOS Screen Shots
Open "System Preferences"And go to"Keyboard"Then the tab"Shortcuts"Navigate to"Screen Shots"
Here we select the desired key combination for each type of screenshot.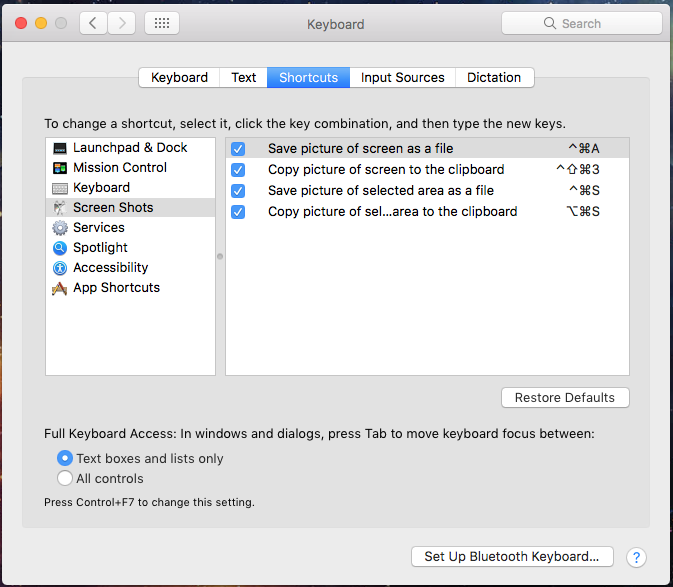 We ensure that is checked desired option screenshotthen Click on combitatia key (if it already exists) on the right. Press the keys to execute the screen shot.
If the chosen key combination is used to run another command to show a yellow warning sign.
Choose a different combination of keys for screen shots or change / disable key combination that is in conflict.
How to take a screenshot with custom keyboard shortcuts MacOS