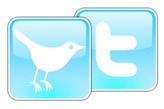 Lately, the popularity Twitter became somewhat equal (if not slightly more bushy) With the one "benefit" mIRC amount of years ago (in paleo-Internet). Curious by nature as we are, we did our register (it is still on standby, so as anonymity) And I started researching about that mechanisms who also spinning wheels with speed (... spreading). Thus we found among the most used applications 20 on Twitter:
1. The first prize (with or without crown) advertising it with a majority of unique striking 1.236.828 heads just in January 2009, Twitpic. What makes this application is easy to understand from the name of "science" that is: allow traffic pictures via Twitter (or let's say share : P);
2. In the second step of the podium was Tweetdeckwith 285.864 visitors per month, hence the conclusion that instead 1 far. This application curb-eli twitter avalanches coming or going from you (via feed or and so on). Additionally, it displays as each user wants Tenderloin (Full screen or full screen + all stages of both).
3. 3 place stopped to catch her breath DigsbyWhich, with 233.472 monthly unique threatens to open wings "wide" after the break (advertising). This guy knows how to provide services 3-in-1 (e-mail, IM si social networking) In a single package (not just 2 calories).
4. First mention for TwitterCounterThis "show-off" of microblogger-S on Twitter, which counts how many "pursuers" were aberrations subscriber (or non-aberration ...) other "pursuers" of "pursuers". 212.200 units / month and it will certainly place 4 bored soon.
5. The second mention is given application TwitterfeedThat allows you to publish on personal blogs Twitter posts of a crowd of 149.812 users (monthly average, ofc).
6. Twitterholic blow her neck occupant 5 site with 147.164 to adhere (& counting) which measures its popularity rank sites (And yes, the most popular is Barack Obama, Britney Spears even though not doing even worse: P).
7. 143.333 people (hopefully) use Twhirl, An application which is almost the same thing you do and Digsby and Twitterdeck together, even has passing and Twitpic. Although 7 now is on the future of laughs with all her mouth.
8. Similar to digg, application Twitt (url) y is a kind of "follower" of votes (or rather of clicks) that links freely circulating on Twitter (via TinyURL, snurl etc.). receive. Has 88.793 followers and climbing the leaderboard until 8 (eight).
9. It's not hard to understand what she can do Twitpoll. Released a poll in et (h) er (net) via Twitter and expect results at the end "election tour". 74.154 Unique and 9 place for this application "election".
10. Retweetist is the name for tweetercover. 60.051 of users reposteaza twitter-of-eli others, increasing them the degree of celebrity. 10 place enough.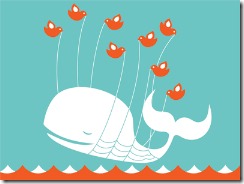 11. Tweepler - Helps you monitor your "followers" in order to take a difficult decision: to follow or not to follow. 51.304 visitors monthly.
12. HelloTXT - A simple application that helps their democrats twitter update statuses (Peeking while the others). Count reached 45.754 (Average / month).
13. Twitdom - Sort of database applications for Twitter (so far gathered in one place 466 applications). 45.411 curious "browse" this month catalog.
14. Tweetscan - Ie a search twitterizat that helps crawls after public posts profiles of users (Results via RSS, e-mail or Twhirl). 44.463 explorers / month.
15. Tweetburner - Sort of friendfeed the Twitter site, keep an eye "threw" the links in the network shares forget it. Until now include 41.754 viewers monthly average.
16. Tweetvisor - Or Web interface the Twitter site which allows users a better account managementAllows Video Responses news and updates, posts and threads in real time. Count 31.621 dependent each month.
17. Twittervision - Or geographic visualization (3D included) real-time on Twitter's public messages. Monthly, 30.708 yawning waste time watching that map.
18. Twitterfall - Do the same thing as Twittervision, but no map. This lists last twiterr-eli Trendy worldwide on site Micro-blogging of Twitter. 29.592 mouth helmet here (and also monthly).
19. Monitter - Same old, same old! Like its predecessors the places 17 and 18 it Monitoring (Is supposed to be a bit smarter) everything that moves on twitter. In addition, known to sort elile twitter and after some keywords, Making it easy to identified topics of interest. 25.433 users (who have nothing better to do) discover and rediscover each month this espionage harmless.
20. Twibs - Or businessmen club twitteristi. Is long list of companies with a Twitter account. With 17.168 unique visitors per month, and have made their way among the most popular applications of it. Predictable.
And other research will follow the land unknown (new) micro-blogging. Now ruminating the row above it and looking sideways at twitteristi around us (we know you're there!). Meanwhile, sleep easy! :)
Top Twitter applications 20 (& counting ...)