Once the first laptopSites, manufacturers such portable PCs (notebook) Sought to eliminate possible external hardware to make it as simple portability. One of these hardware is mouseSite. In its place, the laptop, under touchpad keyboard appeared. touchpadIs composed of a sensing surface crossing fingers that play over her movement function cursor display, and two buttons who plays the right click si left-click. Touchpad is very useful when we go on trips and use laptopacquis in carin train, Plane ... etc.. Where attach a mouse on a mouse pad would be a problem.
Touchpad utility can not be challenged by anyone, but when we laptopThe office much easier is to use a mouse instead of touchpad. Greater accuracy and rapididate. In
Furthermore, in a graphics editing program (Adobe Photoshop, CorelDraw, Paint) Use touchpad slows us very much work.
When using the mouse, and we edited documents or when we play, you happen to accidentally touch the touchpad. To avoid problems occur due to accidental touching of the touchpad, it's best to disable it completely when using the mouse. Most manufacturers of mouse used as driver si software for mouse & touchpad, Synaptics Pointing Device.
With the help Synaptics Pointing Device can control the mouse functions, we can increase cursor speed and we automatically disable touchpad when mouse is plugged into laptop.
This can be achieved by selecting them on the right "Disable internal pointing device the when external USB pointing device is attached".
On laptops new models 2008 operating systems Windows Vista or Windows 7This application installs automatically (by Windows Update Center).
download Synaptics Device Driver .
If you can not use Synaptics Device DriverThere are similar programs. There are applications that will help disable touchpadSite to prevent accidental when work with keyboard. One of these applications is touchpad Blocker. The program will not permanently block touchpadSite and can be used even if you or mouse attached.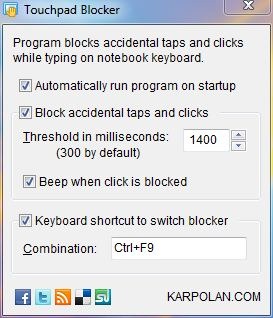 Most accidental clicks on the touchpad arise when we want to edit documents. The program block touchpad when typing and allows us to establish a time frame in which the unlock after the last touch of a button. Default is 300 milliseconds, but it is preferable to put large amounts of time.
Download Touchpad Blocker.
It's free and require installation. We tested the 7 32-bit Windows and behave very well.
Touchpad Blocker - Disable touchpad / Notebook / Laptop Tips