Has not yet been released any official version Windows 8But after formal presentation appeared on Internet many variants and "transformation packs"Ale Windows 8.
One of the most successful "versions" of Windows 8 so far seems to be Windows 8 UX Pack 2.0, which allows transformation system Windows 7 in Windows 8 without affecting the system files. Windows 8 UX Pack 2.0 inegreaza themes Aura, Mosaic, Zetro UI plus some interface changes.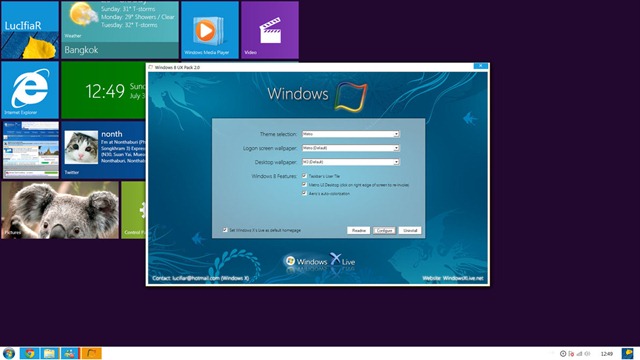 Official page - windowsx (Deviantart.com)
Windows NEVER UX Pack Featured:
Instantly dress up Windows NEVER to come Windows 8 in one minute
Seamless installation and uninstallation giving user's confidence and security in system.
Easily configurable in single click with intelligence Metro UI design
UxStyle memory patching
Windows 8 Aero, Aero Lite or Metro theme
Instant M3 and Metro wallpaper / logon screen customization
UserTile self-Configured with current user on login
Metro UI desktop emulation with pre-configured Gadgets
Aero's auto-colorization feature
Download Windows 8 Transformation Pack - Windows 8 UX 2.0 Pack (Windows 7)
Download Link
This Windows 8 transformation pack is designed for Windows 7 and can be easily uninstalled or reinstalled and reconfigured, but before installing it is advisable to do a System Restore Point.