Although recently developed many IM applications for mobile platforms (WhatsApp, Viber, Skype, Kitten etc.), users iOS still prefer to use default application for text messages, namely imessages. If you are holding a iPhone or iPadBut you want to use and the application imessages computer supplied or even another mobile platform (Apple made available a version of imessages for Macs, But not wardrobe PCs), Then we recommend Remote Messages.
Remote Messages is a tweak for iOS (Which recently received support for iOS 7) Which allows user to use application imessages on other operating systems besides iOS si Mac OSX (e.g Windowsor Androidor Linux).
How to Use Remote Messages for iOS?
after Remote installation MessagesIt will place a menu under application Settings where you can activate the tweak (Settings > Remote Messaging> Enable)
After activation, will be displayed in settings IP si Port The device used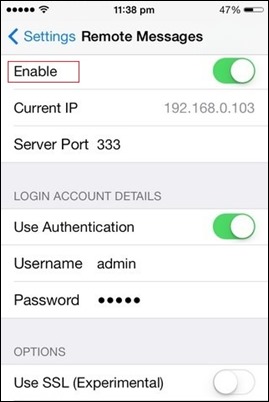 on a Windows/Linux/ Etc open a Web Browser and enter the IP address bar and port displayed in Remote Messages menu on dispzitivul iOS (They must be entered in the format IP: Port, e.g 192.168.0.103:333)
Posts si conversations the application imessages on iOS will be displayed in a panel on the right side of your browser, you can search for specific contacts or conversations in it and you can send new posts directly from your browser (Options available are not very different from those for iOS application) or access camera roll The iOS device and attach pictures from this (for additional settings icon click wheel as shown in the upper right corner, the right button Send)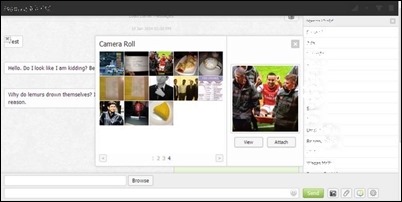 Tweak your Remote Messages can be downloaded from repositorul BigBoss from Cydia Store and costs 3.99$ (Although the price is a little high, if you spend much time in front of a computer most certainly prefer the convenience of sending messages using a normal keyboard than using virtual keyboard the iPhone-ului/iPad-ului).
Note: Tweak your iOS device and works only if the computer is connected to the same wireless network. If you want to add a high level of security for Remote Messages (not just IP based connection) then enable Use Authentication option and choose a username and password (which will be introduced then the web browser to able to access imessages).
STEALTH SETTINGS - Send iMessages from Windows or Android using Remote Messages for iOS
Send iMessages from Windows or Android with Remote Messages for iOS