For those who already lost their hope, proved that there is a God, at least the Twitter's. If you felt discriminated against because you could not use your language "native" on TwitterThe problem is resolved, because a few days here, you can set the default language, language Lolcat (This included community I CAN has cheezburger?).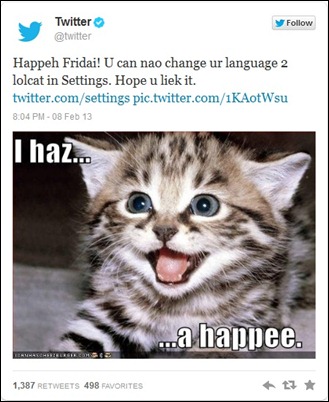 After the update received from the 2 days Twitter users found (some with amusement, some with some skepticism) that can set the default language and language simpaticelor cats that have invaded Internet, namely Lolcat.
For those who do not speak English, this option is useless, because Lolcat is derived from it. For English speakers, however, it can be quite interesting, at least for the simple fact that they have discovered yet another language you can speak with a little practice, fluently.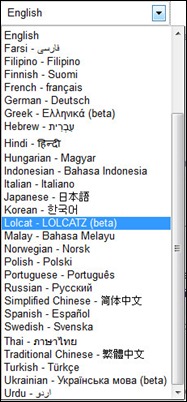 Another thing to note, Lolcat language is written only case (So ​​it does not get abused key Caps LockIs not her fault). And that information Further, Lolcat not affect users tweets (Caps Lock & all), but in quite subtle lines (currently) only interface around them.

And if you think that it's a Twitter joke is a bit unusual, then remember the English versions available Facebook, namely 1337-style si pirateThat what is right, and they have done enough valve at a time.
Lolcat Enjoy! : D
STEALTH SETTINGS - Twitter introduces a new language for ITS users: Lolcat
Twitter introduces a new language users: "Lolcat"