... with pepper And with onion! Um ... and a Magnum 45 with dill.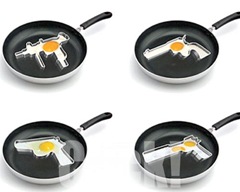 The idea to release the pans for fried eggs in the form of weapons, belong to a company in Hong Kong (Urban Trend).
- How to make eggs? Uzi or Magnum? :)))
source: click.ro .
A soft Uzi, please ...