Although there are very few users Windows who are not familiar with the notion of registry systemPerhaps as few are the ones who know their importance for proper operation of Operating Systems. Windows Registry is database common (central) and a hierarchical system and applications installed on it. This database stores all the informations necessary for system configuration, user profiles, applications and hardware. If, for whatever reason, the system registry becomes corrupted (changed or deleted by Virus or inexperienced users') applications on Windows or it can become dysfunctional (or will appear errors them while running or will not respond at all to commands).
In a Windows system, the database consists of several files (hive), Each containing branches of the registry, which is based on each one key main (eg HKEY_LOCAL_MACHINE). The locations of these files (or the registry) are:
HKEY_LOCAL_MACHINESYSTEM> System32configsystem
HKEY_LOCAL_MACHINESOFTWARE: System32configsoftware
HKEY_USERS.DEFAULT> System32configdefault
The other main key that Windows users are familiar with the Windows Registry is actually links registry subkey to the above:
HKEY_CLASSES_ROOT> link to HKEY_LOCAL_MACHINESOFTWAREClasses.
HKEY_CURRENT_USER> link to the logged user profile, under HKEY_USERS
HKEY_CURRENT_CONFIG> link to HKEY_LOCAL_MACHINESYSTEMCurrentControlSetControlIDConfigDBHardware Profiles.
In default mode (default), Windows Registry can be accessed and edited only by registry editor (RegEdit), But users who want can access via registry Windows Explorer with the help Windows Registry Shell Extension.
Windows Registry Shell Extension is a Plugin Windows Explorer that creates a virtual folder that lists all registry.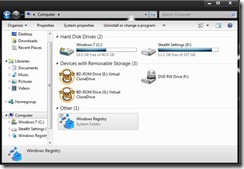 After installing the plugin, virtual folder Windows Registry will be displayed (My) Computer and can be accessed like any regular folder.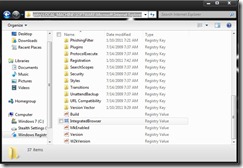 Download Windows Registry Shell Extension.
Note: To make changes to registry virtual folder directly from Windows registry will need to open Windows Explorer with right / administrator privileges. Before editing the system registry, make sure you have a backup of them in order to avoid unpleasant consequences.
STEALTH SETTINGS - WHERE ARE THE LOCATIONS OF REGISTRY AND HOW TO ACCESS down Windows Theme from Windows Explorer
Registry system where they are located and how to access them directly from Windows Explorer