Microsoft 365 si Office 2021 are two of the most widely used productivity application suites for PC users. In order to benefit from the newest features and to solve some errors and bugs of these application suites, it is important to know how you can do update la Microsoft 365 si Office 2021 pe Windows 11.
Regular update a Microsoft Office it is important for an optimal performance of the applications in the suite, such as Word, Excel, PowerPoint si Outlook. Updates ensure the security and performance of your system, as well as compatibility with the newest formats and features of Office applications.
The importance of up-to-date updates for Microsoft Office
Here are some reasons why it is important to have the applications Microsoft Office updated to date:
Security: Updates Microsoft Office they often include fixes for security vulnerabilities that can be used by hackers to take control of your computer or steal your personal data.
Error correction and performance improvements: Updates Microsoft Office they also include the correction of errors from previous versions and also bring performance improvements for a better experience in using Office applications.
Compatibility with new formats and features: Updates allow users to use new file formats and new features added in Microsoft Office. By updating to the latest version, you will be able to open and edit files created in previous versions of Microsoft Office.
How to update Microsoft 365 and Office 2021 on Windows 11
Normally, application suites Office 2021 si Microsoft 365, should update via Windows Update. To make these updates, in: Settings > Windows Update > Advanced options, the option " must be activatedReceive updates for other Microsoft products".
By activating this option, updates will be made to both the suite Microsoft Office as well as other applications developed by Microsoft, which can be found installed on your computer. "Get Microsoft Office and other updates together with Windows updates".
If you have the suite installed Microsoft Office 2021 or an earlier version, updates can also be done from any application in the suite.
How to update manually Microsoft 365 and Microsoft Office 2021
To do a "manual" update of the suite Microsoft Office installed on your computer, follow the steps in the tutorial below.
1. Open any of the applications Microsoft Office installed then go to "Account".
If you already have a document open, click on the button "File" to get to the page with the above options.
2. In "Account", go to "Microsoft 365 and Office Updates", Click on"Update Options", Then click on"Update Now".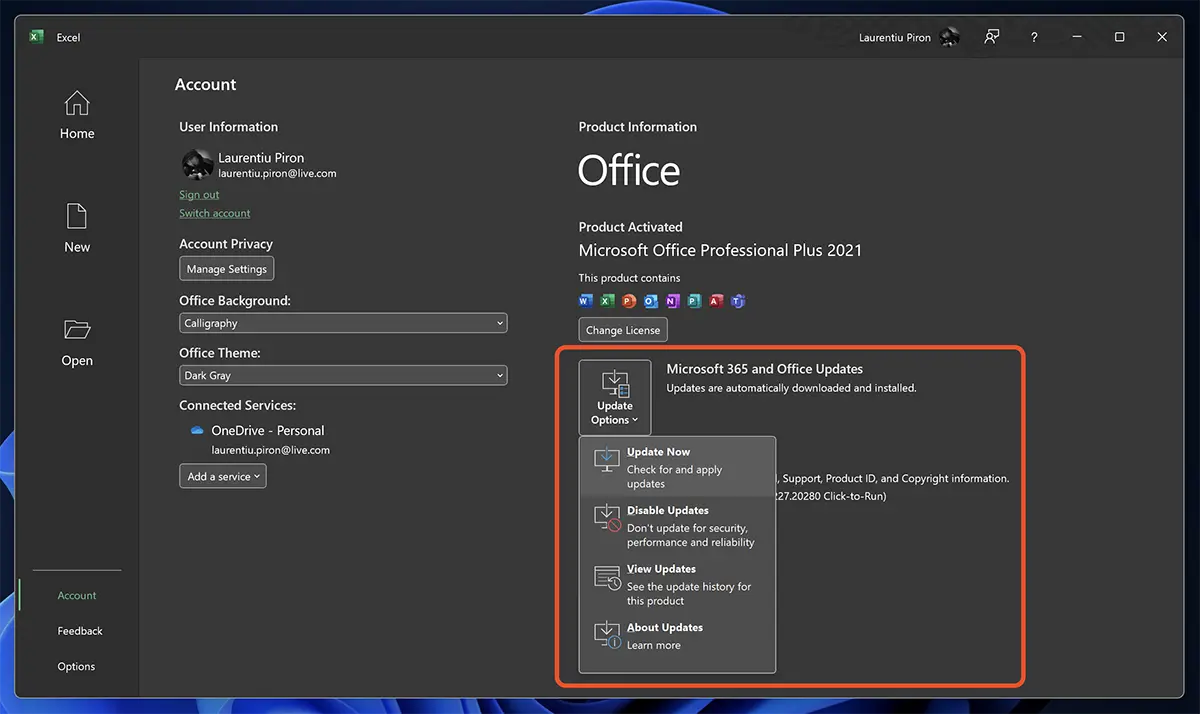 You no longer just have to wait until the updates for Microsoft 365 si Microsoft Office will be downloaded and installed.
You might also be interested in the tutorials:
Normally, after the suite updates Microsoft Office there is no need to restart the computer.
You're up to date!