One of the most important components of a computer is hard drive it, which is stored information important to the user. A hard drive error can have serious consequences such as loss of such information. To avoid such situations, users are advised to check frequently health of hard disks of equipment and also to regularly backups the information stored on them.
HDD Expert is a free utility with which users Operating Systems Windows can check the health of your hard disks (where PC has connected more HDDs, each are displayed and analyzed by the application) and performance thereof.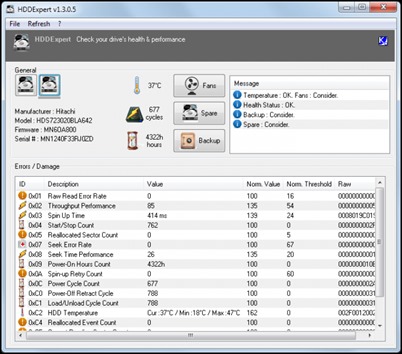 Via HDD Expert Users can find information about HDD status at a point such as temperature si status (Health), number of power cycles performed performance and frequency reading errors and in addition, offers and recommendations (according to existing errors) for maintenance (Upgrade coolers, performing backups etc.).
Information about the data SMART of hard disks is displayed in the Errors / DamageBut not all these data are correlated with errors or defects of them, especially if the hard disks status is OK. But the information provided is accurate, and users should consider these to reports of problems (Such as reading errors which may lead to failure complete HDDs).
Note: Compatible with Windows XP, Windows Vista, Windows 7 and Windows 8/8.1
STEALTH SETTINGS - Check hard drive health and performance with HDD Expert
Check the health and performance with HDD hard drive Expert