Sometimes problems happen to occur Internet connection the most inconvenient moments. Depending on the type of connection used, users can try to fix it stopping modem or router for a few seconds (which works most of the time, if the problem is not caused by provider) Or redial if using dial-up.
NetChecker is a free utility allowing users to check status si Internet connection status (While checking status informs the user if the PC is connected to the Internet or not, check the connection status provides information about potential problems thereof) and the repair problems identified.
The application uses Windows Shell to display information about the connection, users can select options available using the number keys 0 la 6 (For example, check the status, Press 1 key, for checking the connection press 2 key, for change the language of the application, Press 4 key etc.).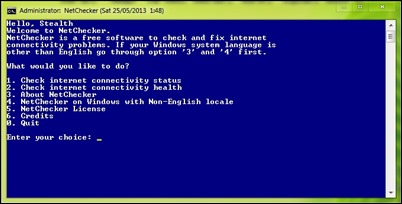 In case of NetChecker identify problems with the Internet connection will provide troubleshooting according to their kind of problems identified:
if the PC is disconnected from the internetWill run tests to identify possible causes
according to results from these tests can identify network problems or determine if Internet Service Providers is down
checking the connection can offer suggestions on how to solve problems with the connection, such as updating router firmware or replacing it if the problems are caused by loss or Data block between NIC si router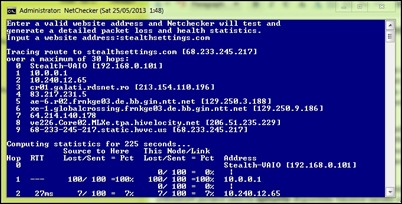 Although NetChacker can not guarantee to resolve the problems with the Internet connection can be helpful when you experience problems that you can not identify yourself. Also, although it can solve problems Wireless conexunile or broadbandIs not useful if mobile connections or dial-up.
Note: The application is compatible with Windows XP, Windows Vista, Windows and Windows 7 8.
STEALTH SETTINGS - Check and repair Internet connection issues with NetChecker
Check and repair problems with your Internet connection NetChecker