Many users received these days alerts from Windows Defender showing detection and blocking of Win32/Hive.ZY virus. A malware (virus) application. Fortunately, Microsoft has already announced that it is a bug and users have nothing to worry about. Their computers are not infected. At least not with this virus.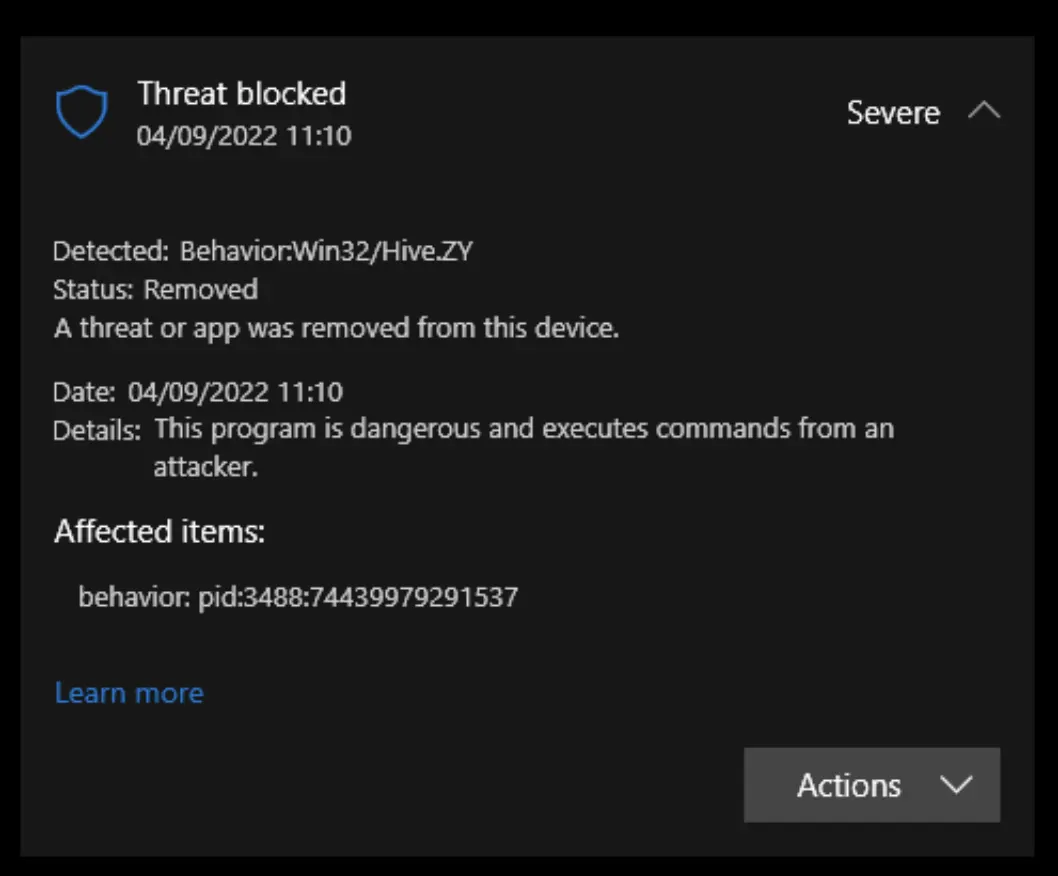 Windows Defender

detected

Win32/Hive.ZY

virus in many computers
Windows Defender is antivirus software present on all computers with new versions of Windows, representing the first redoubt of defense against viruses and malware applications.
A day ago, due to a bug that appeared in a update of the antivirus database, Windows Defender released notifications that it detected and blocked Win32/Hive.ZY.
Alera managed to scare a lot of users, especially since in the description of this malware it appears that the cyber attacker can execute remote commands and take control through Win32/Hive.ZY.
The fact that it repeats itself every few minutes, when users open applications such as: Google Chrome, also gave serious reasons for concern. Microsoft Edge, Spotify or Discord. Everything returned to normal when the application that generated the alert was closed.
What to do when you receive a malware alert from Windows Defender
I think that Windows Defender it is a very good protection system against cyber attacks. Malwarebytes however, it is a very effective solution and available to anyone who suspects that a virus might be hiding in the computer. It is good to always check an anti-virus software if it is sent by Windows Defender is indeed a cause for concern. Malwarebytes Anti-Malware can be downloaded and run in the free version.
Many users ran a full scan with Malwarebytes when they received the Win32/Hive.ZY virus alert and as expected nothing was detected.
Fortunately, it is about an allera false positive. This means that Win32/Hive.ZY is not a virus.
Alera for Win32/Hive.ZY appeared after the update Microsoft Defender Antivirus – KB2267602 (Version 1.373.1508.0). A bug caused all Chromium-based applications to be detected with this virus.
So, if you still encounter a problem with this blade in Windows Defender, go in Windows Update and update to the latest version of the database Microsoft Defender Antivirus.