There are few Windows users who have received the warning message that announces them as one virus It was found in the computer. "Found some malware"Alert is generated Windows Defender when it encounters a application or a suspicious code in your computers.

Details provided by Microsoft about Win32 / Spursint.A! Cl Trojan Virus The powerful virus is scary.
Category: Trojan
Description: This program is Dangerous and executes commands from attacker year.
Recommended action: Remove this software it immediately.
items: file: C: \ ProgramData \ Microsoft \ Windows Defender \ Scans \ FilesStash \ ... etc
Trojan: Win32 / Spursint.A! Cl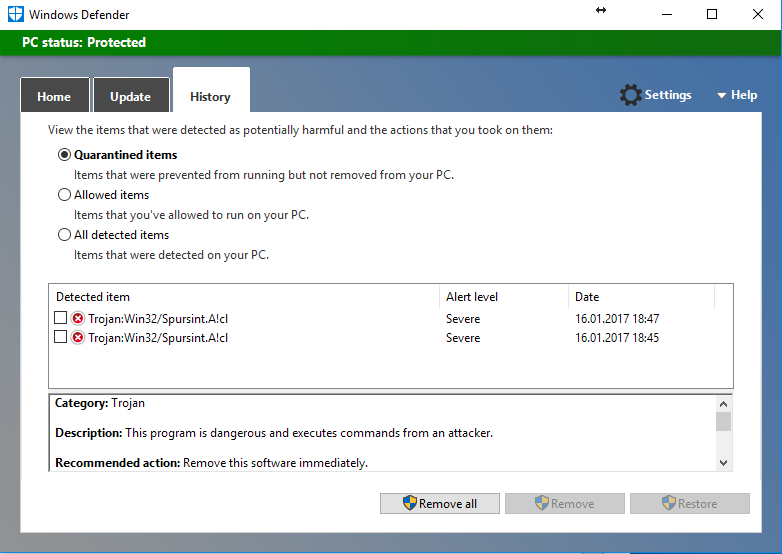 From what Microsoft understand that it is a typical virus dubious websites, with which hackers can see passwords, data cards and other user information sensitivity of the virus. It suggests the immediate deletion of this virus and eventually uninstalled programs, browsers and other applications that are not "Powered by Microsoft"
The problem is that the file was found with the virus alert level "severe", There were only a few innocent PHP functions, and Windows Defender's headache was one HEX code generatorThat allowed a user to choose a shade of color. So much was the high virus Win32 / Spursint.A! Cl in our situation.
The idea is that this article exposes more than an error to Microsoft about what Win32 / Spursint.A! Cl (not that we could learn more from Microsoft) and how it can affect user REAL.
We advise you, however if you're still encountering such Alera related Win32 / Spursint.A! Cl to immediately delete files containing itIf you have no experience necessary to identify those files and understand exactly what is found in their content.
So, Win32 / Spursint.Al! Malware in the situation presented above was an alert "false Positive"
Win32 / Spursint.A! Cl - specific Windows Defender Trojan Virus