Windows 10 many promises. It is a worthy successor OS who made the History. Windows XP si Windows 7.
Microsoft brought some News si improvements very well received by those who have tested so far on personal computers. Many users are venturing to install an operating system Again, without documented well before installing it on PC. Not to mention the systems launched in beta, we do not recommend to install than developers and those ... like us. What do tests si tutorials operating systems :)
Windows 10 / Minimum System Requirements
"Minimum System Requirements" refers to minimum performance al hardware basic altcatuiesc computer you. That does not mean that if your PC meetsMinimum System Requirements for Windows 10 for example, it will run in the normal PC. No. The operating system will run, but as you are better system performance, the operating system will be more reliable, will "move" better without lock or hard launch applications. To make a comparison with a real life, a car and a Ferrari Logan doing basically the same thing. Both go on the road and both theoretically can reach the destination, but the difference in comfort, speed and stability between the two is huge. And so is the computer.
If you already have an operating system installed Windows 7 or Windows 8 and you want to upgrade to Windows 10, we recommend "clean installation". That means no use of 10 install Windows Update Center. In our tests we did, and we found that not all drivers and all applications that are installed on a Windows 7, 10 are ready for Windows. We had surprises even with a nVidia video cardWhich was not seen by Windows 10.
10 Choosing Windows version is also very important. Many hear that installs which version is better, but without knowing exactly what the "version that has more options on it, so it's best." First you need to know what hardware architectures have other laptop or your PC or laptop If you have a computer with more than 3GB RAM, then surely you will have to install a version of Windows 10 64-bit with the arhitectutra. This is true for older versions of Windows. Windows XP, Windows Vista, Windows 7, Windows 8 si Windows 8.1All these versions were launched with support and 32-bit architectures and 64-bit. The first negative impact of incorrect installation of Windows architecture, takes place between the operating system and PC hardware. By installing a Windows 10 / 32-bit on a computer that has 6 GB RAM, do not be surprised if the computer will not use the system, applications and games than the maximum 3GB. because 32-bit systems suffers 3 GB maximum RAM.
So when you decided to 10 install Windows on a PC or laptop, Check first to see how much RAM your computer has. If you for example 2 GB RAM installed in the slot, you can install both 32-bit version (recommended), and on 64-bit architecture but systems 64-bit consume Much more memoryAnd the computer will be weaker. We recommend that for computers to RAM 3GB to install OS 32-bit. To understand what 32 64-bit-bit high will say it's in two ways information processing by the processor (CPU). 32-bit systems have processing system simpler and consumes less RAM than just a 64-bit system.
After you have determined which version of Windows 10 choose the computer, watch less and storage space. Even if Windows installation .iso image of 10 2.9 and 3.5 has between GB hard disk installed system occupies more space. In addition, while or to appear UpdateCEs and they will occupy space on the disk. So a Windows system on 10-32 bito recommended minimum disk space 20-25 GBWhile a Windows system on 10-64 bits recommend a minimum of 30-40 GB. Many specialized sites, give the recommended space GB respectively 16 20 64 GB-bit version, but it comes to installation space and so. No updates or other critical applications installed on the operating system.
Another important element is the processor. Do not venture to install Windows 10 on a mini-laptop processor Intel Atom. Better looking to install Nokia Windows Phone 10 6500 a Slide. It might run better :-)
Minimum requirements for processor (CPU) Windows 10 as the 1.4 GHz up, Single-core.
Windows Edition which you choose to install must be for your needs. Both Windows 7 and Windows 8 as well Windows 10 were launched by Microsoft in several editions. Windows 7 for example, has no less than 6 editions, each optimized for a specific group of users for some systems / computers. 7 Windows Starter, 7 Windows Home Basic, 7 Windows Home Premium (preinstalled on most laptops of trade), Windows 7 Professional, 7 Windows Enterprise(with all options included, but It is dedicated for proper business license / Enterprise) and Windows Ultimate 7. The latter containing all news (feature) and the options Windows version 7.
Windows 10 he is released in several editions, but this time Microsoft to split into two broad categories which in turn each have four subcategories. Windows 10 Core Experienceswhose subcategories Windows 10 Home. Windows 10 Pro, Windows 10 Enterprise, Windows 10 Education and Windows 10 Business Experiences containing the same four subcategories, but features different editions of Windows compared to 10 Core Experiences.
Business versions of Windows come with a few options 10 management and security In addition to the Core versions.
To see which differences between editions of Windows 10, Visit the official website of Microsoft. Compare Editions Windows 10.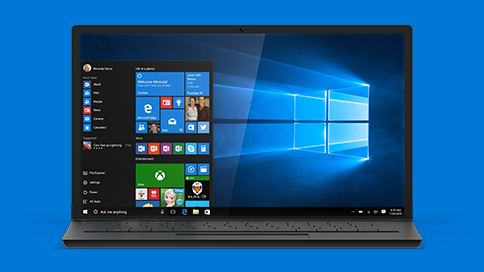 After you have determined that your system resources download and install the new Windows 10. Microsoft offers free to download Windows 10 Home si Windows 10 ProDirectly from the official website. Download Windows 10.
Please note that by downloading a free 10 Windows image, you are not exempt cupararea license for Windows 10. License Windows Home 10 cost around $ 120and Windows 10 Pro around $ 200.
Windows 10 (32 64-bit &-bit) - Download and System Requirements