In Windows 10, Microsoft has brought a lot of new features, innovations and improvements, but this operating system is far from perfect. Microsoft regularly updates both the operating system and the hardware components on the PC to ensure stability, performance and security for users.
Compared to the operating systems previously launched by Microsoft, Windows 10 has an update system that almost forces the user to install the latest updates. If in previous operating systems (Windows 8, Windows 7, Windows Vista and XP) stopping updates was made very easy with just a few clicks on Windows 10 these options have been removed. The user only has the possibility to postpone the installation of an update, not its permanent refusal.
Paradoxically, there are situations where updates are on Windows 10 they no longer want to install, even if the user wants to. The system Windows Update either remains blocked and no longer wants to download and install updates, or when installing an update remains blocked. In this situation we have several options to solve the problem.
How to solve the download and installation problems Windows 10 Updates
1 variant - Verification of vital services for Update of Windows 10
Daca the update system of Windows 10 it does not work anymore normal and you can not download and install updates, first of all I have to check the services Windows essential for download and installation.
go to Windows Services (open Start and search for "services") and check if the following services are running on the system (Status: Running):
Windows Update
Background Intelligent Transfer Service (BITS)
Cryptographic Service
As the update system of Windows 10 to be able to work in normal parameters, all these services must be with "Running" status and their start on the operating system must be on "Automatic". If these services do not run, select the service → right-click → Start. To put them in "Automatic" mode: right-click on the service → Properties → Startup type → automatically.
If you have identified services that were not running on Windows 10 and you turned them on, go in Windows Update and check if everything is working normally now.
2 variant - Solve the problem Windows Update with set of commands Command Prompt
Another option is to open Command Prompt with rights Administrator (Run as Administrator) and yours restart the services that ensure the proper functioning of Windows Updates.
Run in Command Prompt the following set of commands:
net stop wuauserv
net stop cryptSvc
net stop bits
net stop msiserver
ren C:\Windows\SoftwareDistribution SoftwareDistribution.old
ren C:\Windows\System32\catroot2 catroot2.old
net start wuauserv
net start cryptSvc
net start bits
net start msiserver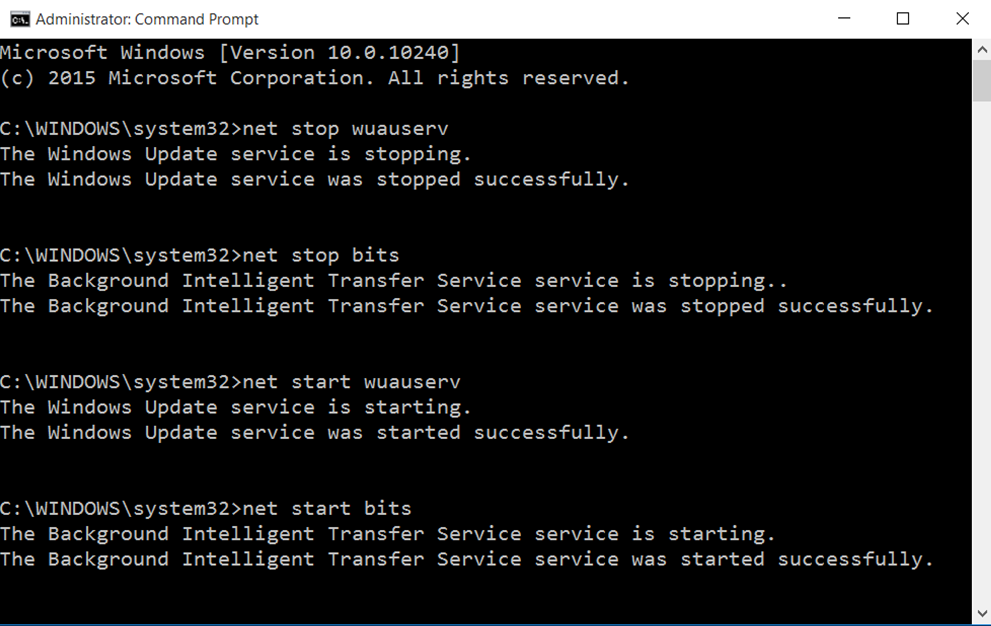 Once successfully executed the above commands, close Command Prompt si reboot / laptop.
After restarting the system, go to Windows Update and check if everything is working normally.
How to solve the download and installation problems Windows 10 Update [Troubleshooting]