In about a month, Microsoft prepares one major update operating system Windows 10, and that everything goes well, it's working hard. Currently developers and curious insiders in Microsoft Insider Program can install and test Redstone 4. A beta preview of the Windows 10 which will be launched this spring.
Future update by Windows 10 will bring significant changes to the level Windows Shell (the design / user interface) as well as the browser Microsoft Edge, Cortana si Settings.
News present on Windows 10 Redstone 4 / Insider Preview 17101.1000 (rs4_release)
Microsoft Edge
Microsoft's "home" Internet browser promises to be more focused on productivity, organization si safety. It brings some new elements that could make it a real rival for Chrome and Firefox.

- allows you to disable the sound in the tabs you want the user.
- via Edge free EPUB books can be saved.
- will automatically fill in the personal data fields dedicated to them on the websites. If you first access an online store and want to place an order, do not waste time filling in fields for name, addresses, and other data.
- Improved IU interface with "Fluent Design" effects.
- Enhanced file interface EPUB si PDF open in Edge.
- the new version of Edge will support you Service Workers. The system through which you can receive notifications from websites. In addition, web pages will refresh in the background even if Microsoft Edge it is closed.
Windows Shell - User Interface
- The effects of "Fluent Design" have been redesigned and attenuated
- "Fluent Design Acrylic"And"Reveal"Have been added on several spaces in Windows. Including in "Settings".
- The "Fluent Design" system is now present in Start Menu, in the application list.
- "clear all", "expand", "collapse" and "see more" of Action Center will now use the color you choose for the operating system.
- You can use it swipe with two fingers to clear all notifications from Action Center.
– Windows will display "lock screen"Customized after choosing your system user. Each user can have his own Windows lock screen.
- "Calendar" opens with "reveal effects" from taskbar. A new, more attractive interface.
- for contacts retained in taskbar the applications to which they are connected will be displayed first
– Taskbar received an Acrylic Blur Effect
- Action Center received Microsoft Fluent Design. By the way, you will see that Microsoft Fluent Design appears in most areas of the shell Windows 10. Not only in those mentioned by us.
- The text "clear all" in Notification Center was changed to "clear all notifications"
- Quick access to live app settings in the Start Menu is facilitated. Click right on "live" apps in Start Menu> More> App Settings.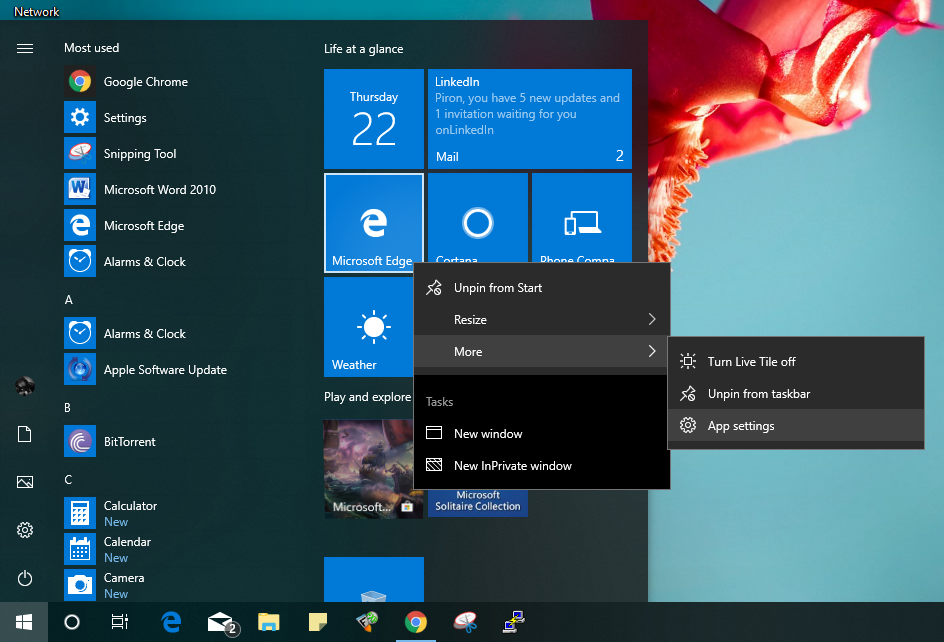 – Task View now includes one Timeline (timeline) that allows you to return over time and reopen the latest applications up to 30 days.
– DesktopVirtual (Virtual Desktops) are now added to the top of Task View
- The Fluent Design effect automatically disables the Save Power Mode. Especially on your laptop, when it is not connected to a power source.
- The new UI allows the repositioning of the contacts fixed in the taskbar. Taskbar.
These would be the most significant interface (UI) changes and changes to the Microsoft browser Edge, but if you install Redstone 4 you will surely discover more.
Windows 10 Redstone 4 - Design Changes (Fluid Design UI) and News in Microsoft Edge