For those who have family and friends scattered throughout globeOr are on the move on a continent another, knowledge zone the countries that are part of the equation is very important. This class but others who are not in the above description, but instead were provided with a minimum dose of curiosity, microsoft He come to the rescue with additional watches (Free supplement of Windows Vista si Windows 7 Beta).
Those who want to set Additional Clocks pe Windows 7, Their attention (or at least hope) with the following:
Click on clock bottom right corner the display, then hit another click on Change date and time settings.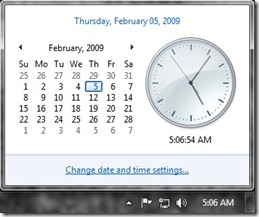 In tab Additional Clocks you have the option to select still two clocks, You can set it to show timezones from different countries to your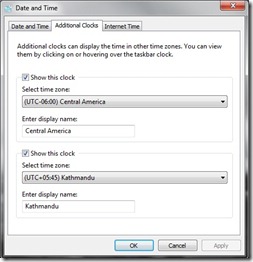 After setting the clocks additional click OK. Then click again on the clock in the bottom right corner of the monitor. It will look like this:
Note: If either Central America or not Unlisted Kathmandu unknowns that need to know, try Nuku'alofa or Mazatlan. Although neither of these two latter not guaranteed. : P
Windows 7 Additional Clocks