As I said in previous article, Windows 7 SP1 who knows what is without big news Windows users 7, But rather solve some problems - Not very important, but even ignored. If used to Update the frequently OS (And safely used if you have enabled Automatic updating - Automatic updates), Then you already have installed much of the service pack, Given that it is composed mostly of security updates and optimization which have already been launched and "service" to users via Windows Update.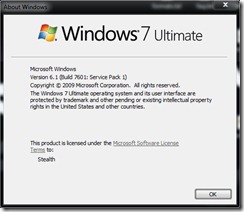 The most important updates included in Windows 7 SP1 (at least I think Microsoft) are the following:
performance improvement HDMI audio devices (Solve the problem of losing the connection between the computer and HDMI audio device after restart / reboot)
Resolving Problems print XPS documents pages containing both landscape and portrait pages
behavior modification functionality Restore previous folders at logon (Ie, instead of cascade appear after restart, depending on location in the recently active folders, they will be restored to their positions anerioare).
support AVX (Advanced Vector Extensions) - Enables improved application performance-intensive floating point system (IT language - floating point application)
improved support for 512e formatted storage devices (With size 4KB sector)
improved support for additional identities the authentication protocol IKEv2 
Even if there were no reported problems (many) after installing Windows 7 SP1, most likely you will see how quickly you run out space-bar pe system partition. To fix this you have to delete backup files created by the system in order uninstall service pack (If you Hoarau to uninstall SP1this back-up is important for system restoration in the state before installing SP's) using disk Cleanup (type: disk Cleanup in Search site from Start Menu and give EnterThen click on Clean up system filesThen check Service Pack Backup Files and click on OK). Note however that you may not Uninstall Windows 7 SP1 Once you have deleted system files backup.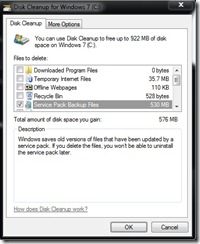 If you decided to uninstall Windows 7 Service Pack 1, type System Restore in Search site from Start Menu and give Enter. Then choose the latest Restore point (If you've made changes to the system after installing SP's, such as installing an application or an update important / critical, be sure to choose the restore point created installing the service pack) Then click on OK (Or Finish). The system will be restored exactly in the state it was before installing SP's.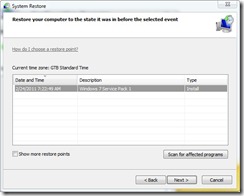 We also can uninstall Windows 7 SP1 through Command Prompt (type: cmd in Search site from Start Menu, Right click on cmd.exe and select Run as administrator. Then type the command wusa.exe / uninstall / kb: 976932 and give Enter) or through Windows Update (Go to Control Panel> Programs> Programs and Features and click on View installed updates. Right-click on Service Pack for Microsoft Windows (KB 976932) and select Uninstall).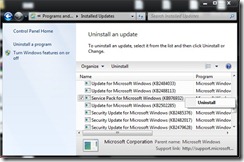 Note: If Windows 7 SP1 can not be uninstalled by any of the methods described above means that the backup files have been removed (most likely the Disk Cleanup). In this case, the only way to uninstall is to reinstall Windows 7.
* Warning! If you use Windows 7 cracked / illegal / non-genuine / pirated / etc, including updateul SP1 contains KB971033 for license validation system (Windows Activation Technologies).
Windows 7 SP1 - News and Uninstall