How many times it happened that a simple surgery like "Delete"To accomplice something more when it comes into account delete the contents of certain folders: In the folder> select files and then Delete, or delete folder with allThen create another folder with the same name.
Or you can make a small Registry tweak so add command Delete Folder Contents in the right-click menu (Right-click Context Menu).
What steps you should follow:
1. Runs registry Editor (type: regedit in Searchacquis in Start Menu and give Enter)
2. Follow the path HKEY_CLASSES_ROOTDirectoryshell
3. Right click on shell and create new Key you named Delete Folder Contents
4. Create new Key Delete Folder Contents in (right-click) that called command
5. In the right panel the corresponding new key modify the value Default entry in cmd / c "cd / d% 1 && del / s / q *. * then let OK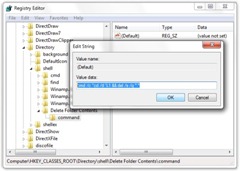 Then close registry Editor and observe menu new command available by right-clicking the folder.
Note: We recommend backing up the registry before modifying them.
LA. Haste makes waste :) Only after I gave publish the post I noticed that you wrote about the same topic once (ironically, all day and all stealth - perhaps you should consider to use different users: D) here. At least every post explains two different methods, so give us extenuating circumstances. Thanks for understanding :)

7 Windows Tweak: Add "Delete Folder Contents" to Right-Click Context Menu