Although only one month left until the release of the first version Preview a Windows 9 (Windows 9 Technology Preview will be released in late September), Very little information about what will contain the following Windows have been officially confirmed. So far we know only that Windows 9 we gain access to Start MenuAs modern applications can be run in the way window (Not just fullscreen or how split that Windows 8 / 8.1), The microsoft will give up Charms menu and will introduce the long-awaited Virtual Desktops, And the system will have virtual assistant CortanaWith Microsoft familiarize us in Windows Phone 8.1. Also of great importance, Windows 9 is a universal system (Or rather one-in-3 1), these inclusions in three versions of the same package OS, for computers, Mobile si Xbox.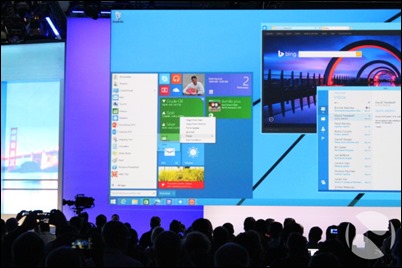 For the latest information appeared online about next WindowsIt seems that it will provide features different computers from mobile. The PCs will be available only classic interface, for desktop, Whereas the mobile will only be available The Start Screen cu tile live sites si modern applications Installed Windows Store. In addition, Windows interface 9 Mobile devices will also has a notification center Recently added menu similar to Microsoft's mobile system Windows Phone 8.1.
It is unlikely that all the changes listed above are included in version Windows 9 Technology PreviewAs it is also possible that some of these will be available only in preview versions of Windows 9 and do not stand up in RTM version system. But Microsoft plans to simplify the transition between trial versions final version, announcing that users can make updates through a new system feature built-in, Without having to reinstall operating system whenever released a new version.
STEALTH SETTINGS - Windows 9 Will have different UI for computers and mobile devices
Windows 9 will have different interfaces for computers and mobile devices