It is not uncommon for us to accidentally delete data imported from the hard drive or from a USB Flash Drive, memory card (eg SDcard) or other external media.
For recovery of deleted photos and documents there are various applications, but most of the time they are paid and most promise results far beyond what they are able to do in reality.
Microsoft has created a data recovery utility for Windows 10, but which it is not known for what reasons he did not promote at all. This utility, Windows File Recovery is available to all users of Windows 10 and is able to recover documents, videos, pictures and more. From accidentally deleted Office files, PDFs and to JPEG, PNG, MPEG, MP3, MP4 and ZIP, RAR media files.
Windows File Recovery supports data recovery in three ways. "Default","Segment"And"Signature". Each mode of operation performs data recovery by a specific method.
The module "Default"- This mode uses Master File Backgammon (MFT) to locate deleted files. This mode works with very good results when file segments are also present File Record Segments (FRS).
The module "Segment"- The module does not require MFT, but the data segments need to be present. The segments are summaries of the file information, which NTFS stores in the MFT. File name, date, size, type and allocation / cluster index.
The module "Signature"- In this search mode, the data must be present, and the search will be done after a certain type of files. It is only recommended for large files and preferably when we have to recover data from an external drive, such as USB Drive.
How to install and use Winndows 10 File Recovery for recovering accidentally deleted data
First of all we must have Windows 10 version 19041.0 or later, then let's go on this link and download the application from Microsoft Store. Remember like this the utility uses command lines in CMD and has no graphical interface (UI).
Once released Windows File Recovery will open CMD with Administrator privileges and a set of instructions that you can use to recover data. Here are specified the three methods of data recovery, described by us above.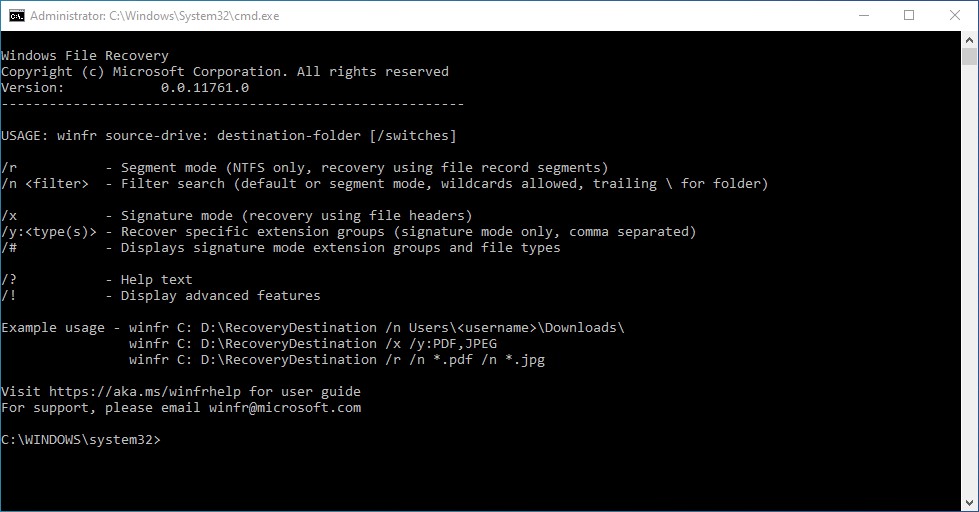 Recover files in "Default"
To retrieve a specific file that was accidentally stressed from partition C: (Documents) and move it to partition E :, the command line will look like this:
winfr C: E: /n \Users\\Documents\Nume_Fisier.docx
In this scenario you need to know the exact file name and extension.
If we want to recover deleted photos (JPEG and PNG formats) from the Photos folder of the C: partition, we execute the command line:
winfr C: E: /n \Users\\Pictures\*.JPEG /n \Users\\Pictures\*.PNG
These will be saved in a folder on the E: partition.
recovery documents deleted from the "Documents" folder will be done with the command line:
winfr C: E: /n \Users\\Documents\
Recover files in "Segment" mode (/ r)
Recover Word and PDF files from partition C, in the folder of files recovered from partition E.
winfr C: E: /r /n *.pdf /n *.docx
Retrieve all files that contain a specific word in the name. Ex. "invoice".
winfr C: E: /r /n *factura*
Data recovery in "Signature" mode (/ x)
First of all it is good to start with the order:
winfr /#
This will show the supported files in the "Signature" recovery mode.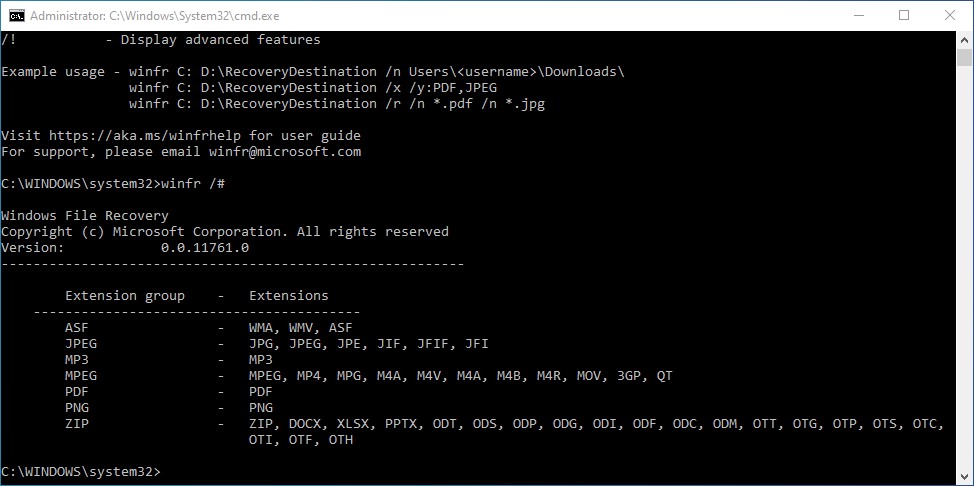 As you can see, the "Signature" mode is especially dedicated to media files. These are often larger than document files. You can recover deleted photos or videos, whose extensions are MPEG or JPEG with their derived extensions.
The command line if we want to recover deleted photos, is:
winfr C: E: /x /y:JPEG,PNG
In the partition E: all recovered photos will be taken, with PNG, JPG, JPEG, JPE, JIF, JFIF and JFI extensions.
Windows File Recovery - Recover deleted data (pictures, documents, videos, archives) on Windows 10