If Mouse let you downAnd in that moment you can not quickly get a new one, Then you would be helpful to know that keyboard (Ie number keys) can replace the functions "Deceased". :)
To activate mouse-keyboard (or keyboard-mouse : P), you have to do some small changes in control Panel.
Enter Ease of Access (Control Panel option) and click on Change how your mouse works.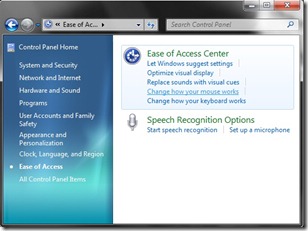 The display window located Control the mouse with the keyboard and check the option Turn on Mouse Keys.
Give Apply si OK and continue your work. :)
Cursor you can move buttons 1,2,3,4,6,7,8 si 9, Key 5 as replacement for left-click. Role double-click it will be key + (picture).
O Shortcut to make these changes as quickly as the key combination Alt + Shift + NumLock.
After these changes can active or disable pressing keyboard-mouse NumLock. Have fun! : D
Windows Tips: Activate your Mouse Keys (Use Keyboard Mouse INSTEAD)