For those who think that WordPress is a single platform for blogs, We have good news. Besides the main advantages: optimization (SEO) and reliability, WordPress allows you to create a design as you want it and PHP functions, PluginSites and combinations with other scripts platform allows you to turn your blog into a real CMS (Content Management System). It is a flexible system.
The best example of CMS / WordPress is a small online catalog cu dresses for brides, evening dresses si accessories for ladies: e-ivory.ro.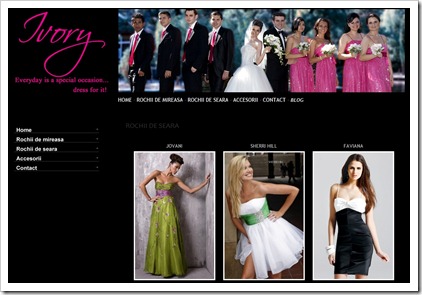 Simple, easy to find main categories (dresses for brides, evening dresses (for New Year's Eve, Christmas) And accessories), easy to navigate to the product pages (codes dresses) and easy to administer. Each dress / accessories added is a "post" to "blog".
If you want to develop a similar catalog and you need more (technical), leave a comment.
e-ivory.ro
WordPress CMS - e-ivory.ro