Team-mail from Yahoo! Messenger bored at work Yahoo! Messenger for Windows Vista (Y! I Vista) And have started Y! I for WordPress ? :)) It will be easier to install on wp than on windows : -?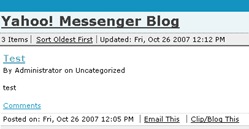 Sorry! The page you were looking for can not be found.

Use the search box at the top of the page or go to the Yahoo! Messenger Blog homepage.
Yahoo Messenger for WordPress: Coming soon! LOL joke.
Yeah. "Tests" are also made at larger houses.
Y! M for WordPress!