Immediately after boot WindowscommunityTime of preparation of system the operation may take more or less depending on how many programs have created Startup entries. If Startups is crowded with inputs of various programs installed on your computer, Including plenty that are unnecessary (many entries are added Startup installing applications, and most of these applications are not used consistently, thus not require running at Startup), Then system will turn harder, Which can be quite irritating when time is short. Although users are able to edit the entries in Windows Startup or by deletion their Startup folderOr by using utility System Configuration (Also known as the msconfig), Which allows activation or off these inputs. But users who want a more complex management plus a Monitoring the inputs created Startup applications, we recommend using the application Startup Patrol.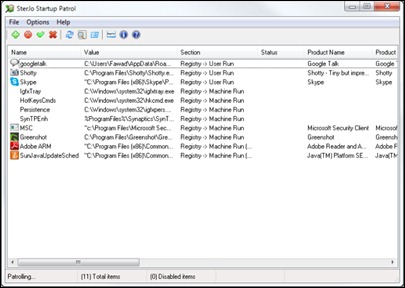 Startup Patrol is a free utility for Windows which allows users to remove items from Startup or to Add new entries for applications used daily. In addition, it Monitoring Windows Startup to identify, whenever a new program is installed, if it tries to add Startup entriesThen displays a notifying which notify the user that a new item is added tries to give him three options: Allow, Disable si Delete.
Interface utility is quite simple, in the main window is displayed list of existing entries in Windows Startup, Where a simple list right click on one of the given items, it can be deactivated, deleted or executed, And can also be displayed properties thereof.
When minimized, Startup Patrol is hidden system trayBut still run in the background for Monitoring and to notify users whenever a program tries to add a new startup entry.
Download Startup Patrol for Windows.
Note: Startup Patrol is available both as an installer and as a portable application (no installation required), and is compatible with Windows XP, Windows Vista, Windows 7 and Windows 8.
STEALTH SETTINGS - Manage and monitor Windows Startup with Startup Patrol
Manages and monitors Windows Startup with Startup Patrol